Yesterday Year 5 in my children's school had a Victorian Day which meant my eldest daughter needed to go to school dressed in a Victorian dress. So, I had the time of my life this year (last year, when they were supposed to have a Tudor day and I was looking forward to dress her as a Tudor girl, I had a major disappointment because the school decided to replace the Tudor Day with an Ancient China day, so I just bought her a simple red cheongsam – a joy of living in Singapore where you can buy these things cheaply everywhere – and off she went).
This year was, however, very different. There are three major historical periods in which I am very interested, that is – Medieval, Tudor and Victorian. I love everything about them – the way people lived, the way they dressed. My most recent passion is all things Victorian (thanks to North and South and Elisabeth Gaskell), so, knowing the dress styles of every decade of the 19th century pretty well, I decided to make my daughter a proper Victorian dress myself. I bought yards and yards of a lovely cotton fabric which looked quite Victorian, yards of cotton batiste and yards of cotton drill (for the petticoat). Initially, I was planning to make the whole set: a chemise, pantaloons, a petticoat and the dress. In the end I decided to simplify things quite a bit (since it was only for one day, and she had to be reasonably comfortable for the whole school day – which in Singapore starts at 7 am with climbing a school bus and finishes at about 4pm when children jump off a school bus near their homes) and ended up making just a petticoat with a wide shaped waistband which also doubles as a sort of a corset and the dress.
I decided not to invent a bicycle on such a grand scale (that wasn't a doll, after all!), so I bought this pattern (hard to find in the right size, but I managed to get it from Etsy). I didn't follow this pattern to the letter – the skirts (both petticoat and the main one) I made in my own way, but it was very useful for the dress top and especially the sleeves.
I made the petticoat from 2 widths of white drill fabric and attached to it a large ruffle made out of 5 widths of the same fabric! Yes, the petticoat is heavy, but it had to be able to provide some support to the skirt of the dress. The hardest thing in making the dress was also the skirt which has two ruffles – 3 widths of fabric each (which means the width of the skirt is about 3.5 metres)! I decided to use a zip for the closure at the back – for the simplicity of it and because it is more suitable for a child than having hooks closure. The top of the dress is lined with white batiste.
So, here is the dress. It is made in the style of 1850-1860s. It is not 100% authentic (after all, it closes at the back with a zip!), but it is supposed to look like one as much as possible for a child's costume.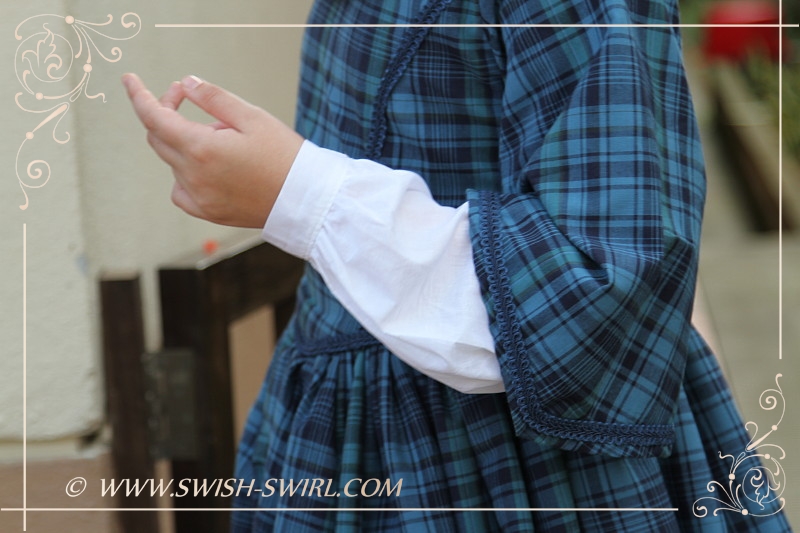 The skirt was made using a historical technique of cartridge pleating – by hand, of course.
My daughter also wanted one of her dolls to be dressed in a matching dress, but I hardly had any fabric left for dressing an American Girl doll, so she decided to make a small doll herself. My friend Marina who is visiting me at the moment embroidered the doll's face and attached a mohair wig. And I made a dress with a petticoat and pantaloons. And here is the result of our combined efforts!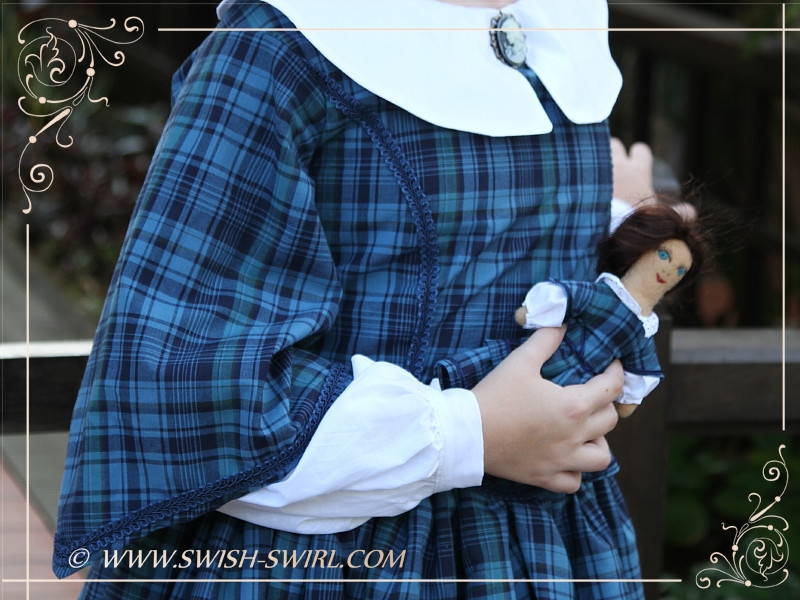 So, the doll's dress repeats the style of my daughter's dress but I simplified it a bit. It closes at the back with 2 snaps. The petticoat and pantaloons are sewn to the waistband together to reduce bulk.