I thought I have finished with buying Gotz dolls, I have even trimmed my Gotz collection quite a bit, but I couldn't be more wrong as it has turned out!
Let's start from the fact, that I didn't like this face mold at first – when it appeared in 2012. And for 2 whole years I wasn't tempted by it – at all! Until… until I saw some photographs by My Doll Best Friend that is. It took me time to realize I really need this girl! And so, here she is…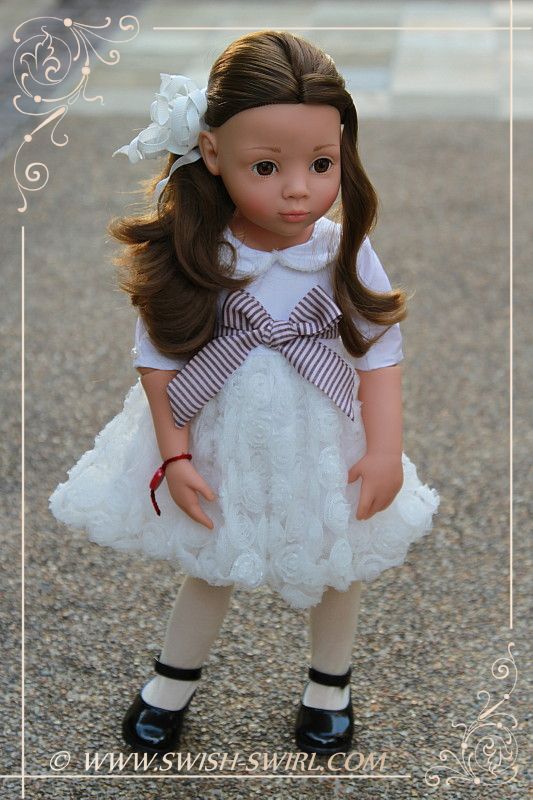 Laura belongs to the Classic Kidz Collection. Dolls in this collection are more expensive, and at first it is not quite obvious why, because the faces are all the same as in the Happy Kidz Collection (Emily/Katie and the new Clara/Sophie molds). You might think that buying Clara (say, in a ballet outfit or in a pink coat) would be the same as buying Laura. I thought so, too. But now I know it's not true. The dolls in this collection are indeed different and, yes, are better. In my view, the cost is fully justified.
The first reason for it is the doll herself. Yes, Laura looks similar to Clara 2012 and 2014, but her vinyl is slightly paler and it makes her gentle face-up stand out and, as a result, make her exceptionally pretty and gentle.
Secondly, her outfit is not a mass-market dress of other lines (with velcro and sometimes odd colour combinations) but a true masterpiece. This particular dress is made from white taffeta and has an absolutely gorgeous lace skirt. The dress is fully lined and closes at the back with 2 transparent plastic snaps (not velcro I dislike so much!). It is also decorated with white pearls and beads (both the sleeves and the skirt). The silk sash  is not attached to the dress.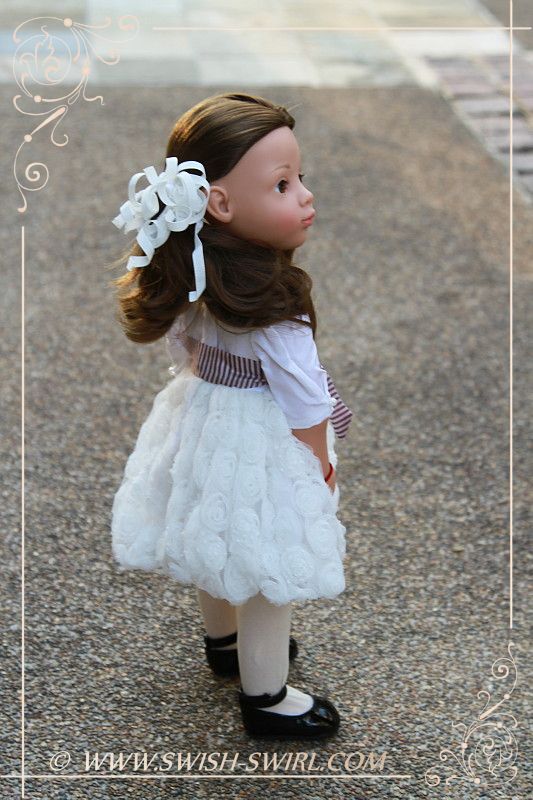 Just look at the exquisite lace skirt. Can you see the tiny white beads on it?
The outfit also includes white tights and white panties made from the same fabric as the dress which are put on top of the tights. And the hairbands (both come from one pony tail) are just lovely.
But the real miracle happens when you take those hair bands off. What is revealed is something you wouldn't even guess is there when you see this doll in a box – a cascade of absolutely gorgeous thick curls!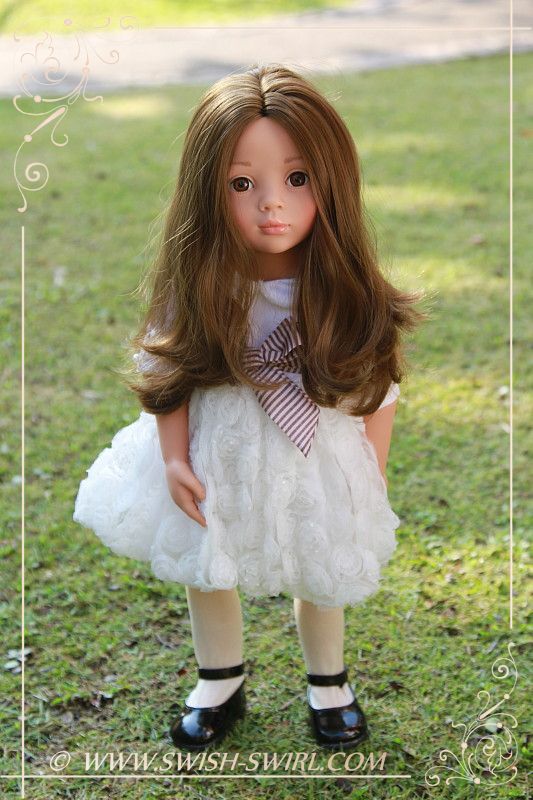 I have already re-dressed her by now, and she looks even more stunning in bright colours. I will show her in a dress I've already made for her when I get around to another photo session! For now, she is standing in the living room and I can't stop admiring her. I haven't changed her name. She will remain Laura.
And I would like to thank My Doll Best Friend shop again for an exceptional service. And for my gorgeous Laura!