I love realistic looking doll clothes and that also applies to knitted garments. And here are two new patterns that follow my motto that every detail counts.
They are miniature replicas of a 1930-40s cardigan with an argyle pattern! It is a traditional style which has been interpreted in various forms in human and doll clothing for decades.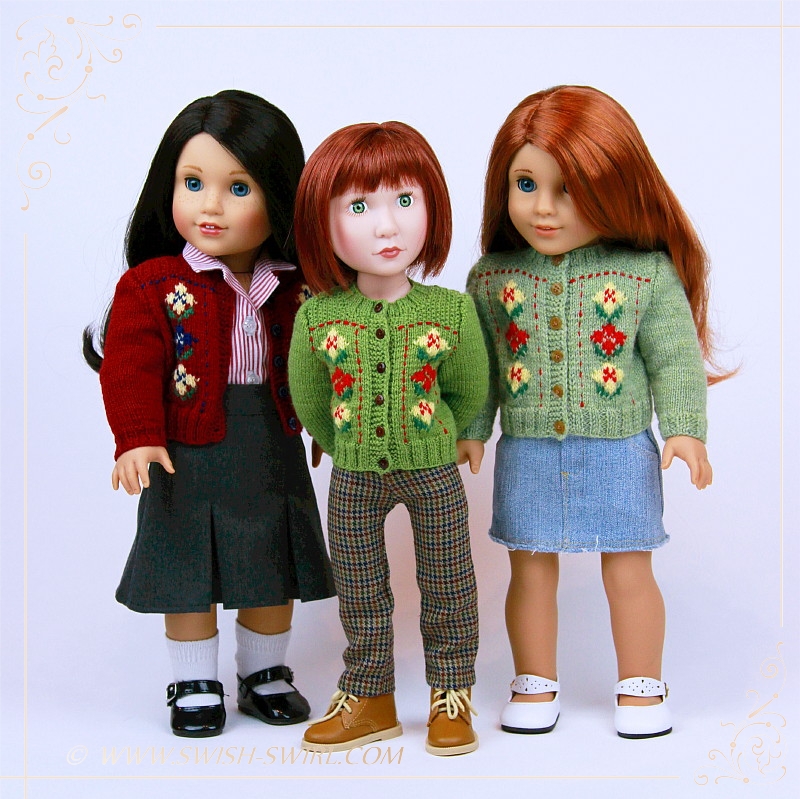 This cardigan started a few years ago when I decided to make something 1940s for my A Girl for All Time Clementine. I am usually not very much into this era (though I am getting increasingly interested in it so you can expect more 1940s patterns!) but I wanted something special for her. And definitely green to match Clem's beautiful green eyes.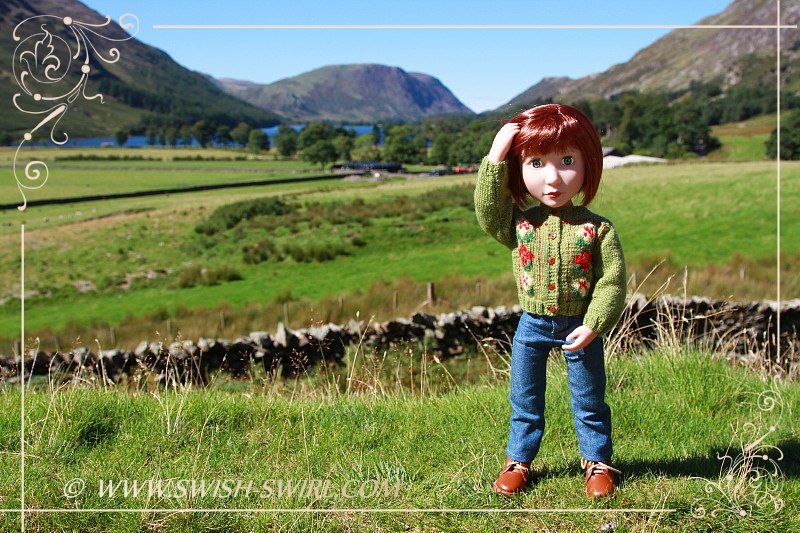 You may remember that first cardigan as I have shown it a lot. Clem even wore it on her trip to The Lake District nearly 2 years ago. Many people have asked me to make it into a pattern – at a time when I didn't even make patterns. But here it is – finally!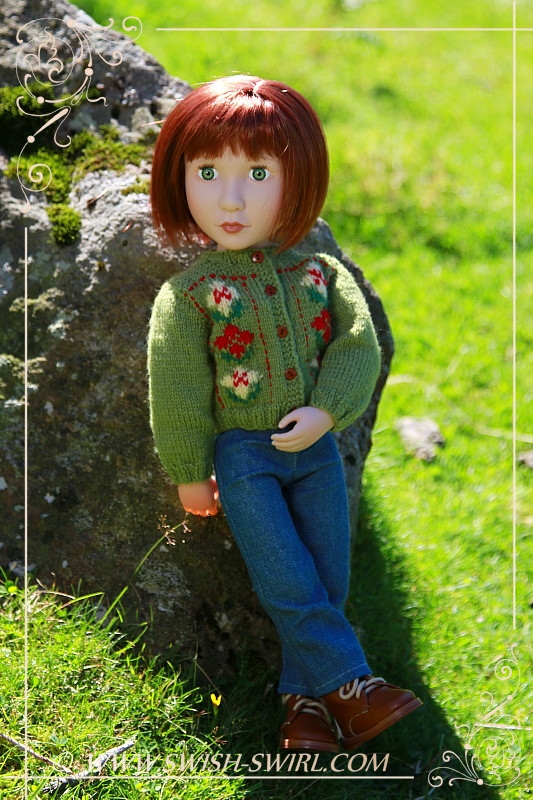 I decided to modify the cardigan a bit from the first version. So, I made it a bit longer, with wider ribbing and more fitted sleeves that have a 1940s feel about them. I still used exactly the same yarn because this shade of green was just perfect for Clem.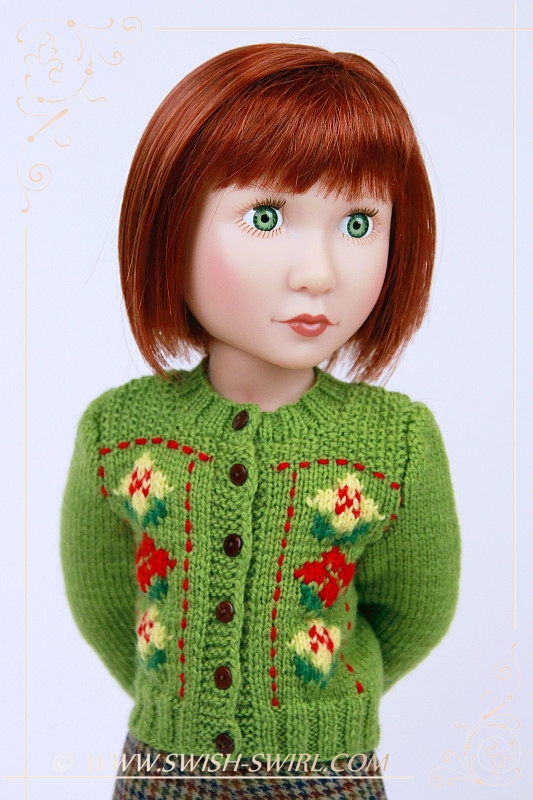 Having decided to make a pattern for A Girl for All Time dolls, I realised that it was important to make a version for 18 inch dolls like American Girl, too.
Just to give you a glimpse into the process of creating knitting patterns: it took me quite some mathematical calculation and 3 attempts at knitting to get a perfect fit, so a lot of work has gone into these patterns.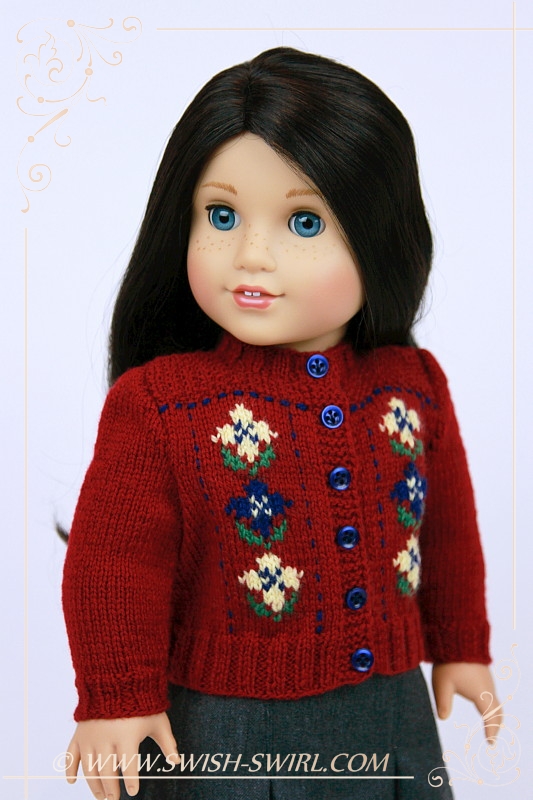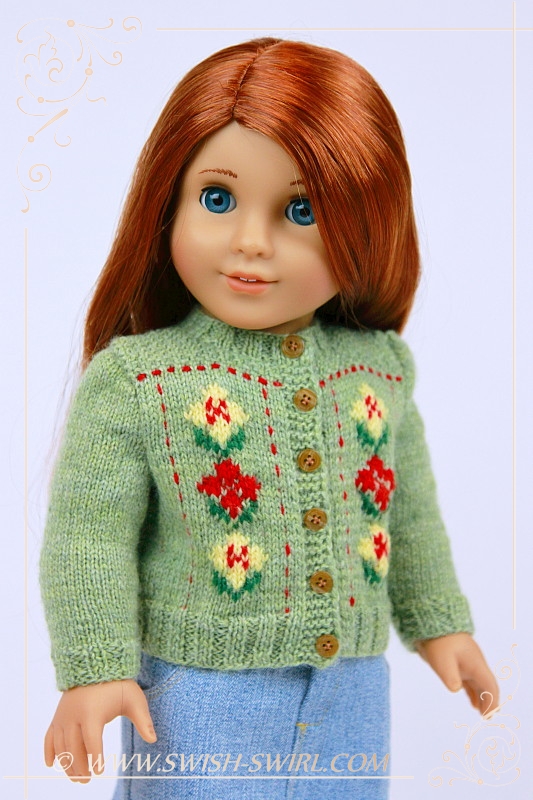 Every detail counts. That is the rule I always follow when making my doll clothes. Both cardigans are knitted from the same Palette fingering yarn which comes in over a hundred different colours and can easily be bought in the US from Knitpicks and in the UK from Great British Yarns. For the A Girl for All Time version I used 1.5 mm (#000) knitting needles while for the 18-inch one it was the more common 2 mm (#0) size.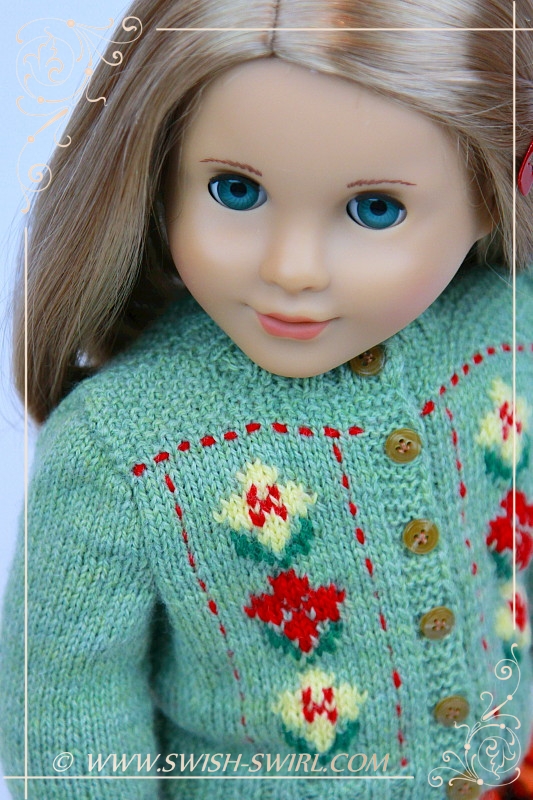 Both cardigans have seed stitch pattern over their shoulders. In addition, the front can be decorated with optional running stitch embroidery outlining the argyle pattern. The diamonds of the argyle pattern itself look like flowers and can be knitted in any colours.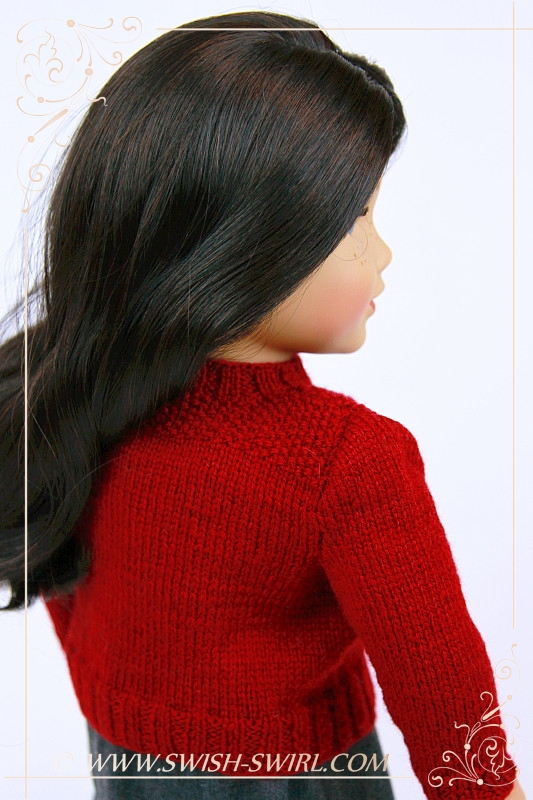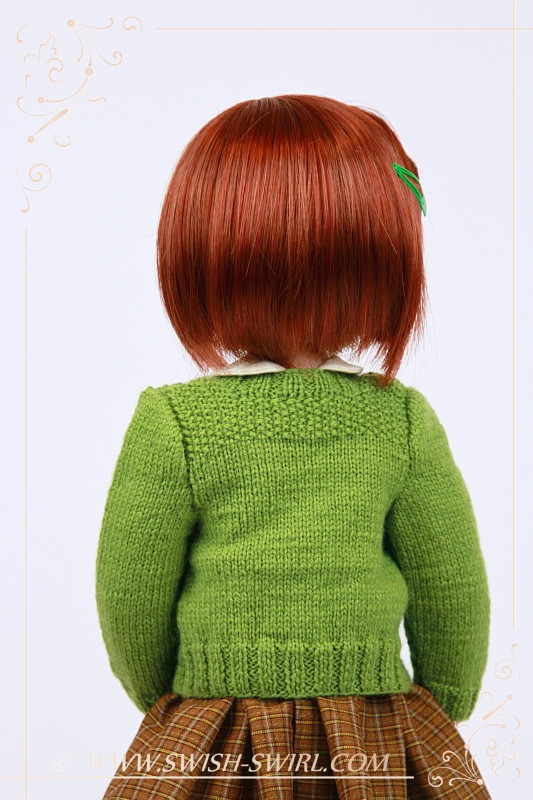 If you are not comfortable with doing the stranded knitting, these patterns come with a second option of knitting a plain cardigan (which, by the way, looks gorgeous on its own!) and embroidering the design later using a duplicate stitch.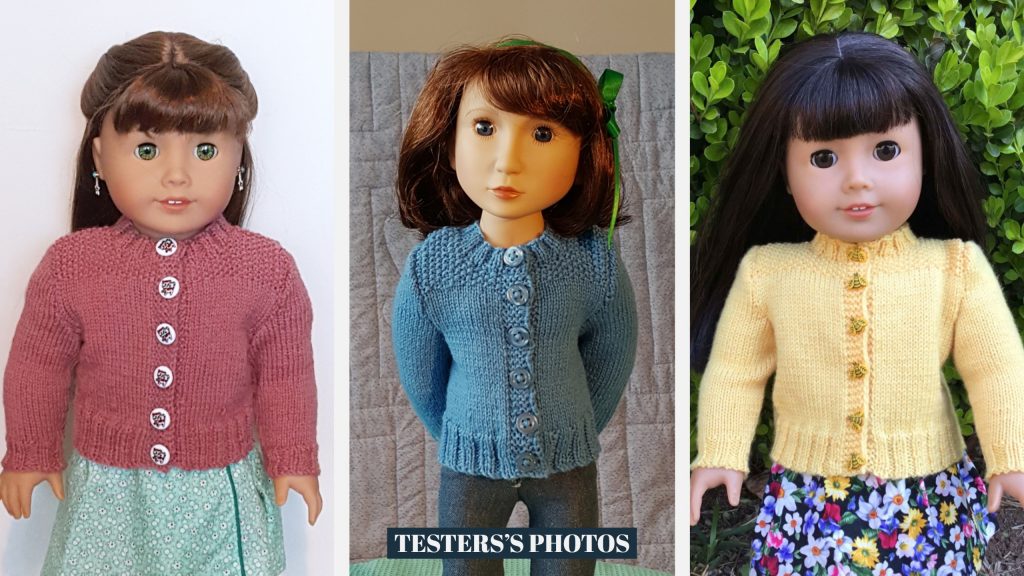 Both cardigans can be worn on their own or on top of another layer – a blouse, a t-shirt, a turtleneck or a dress.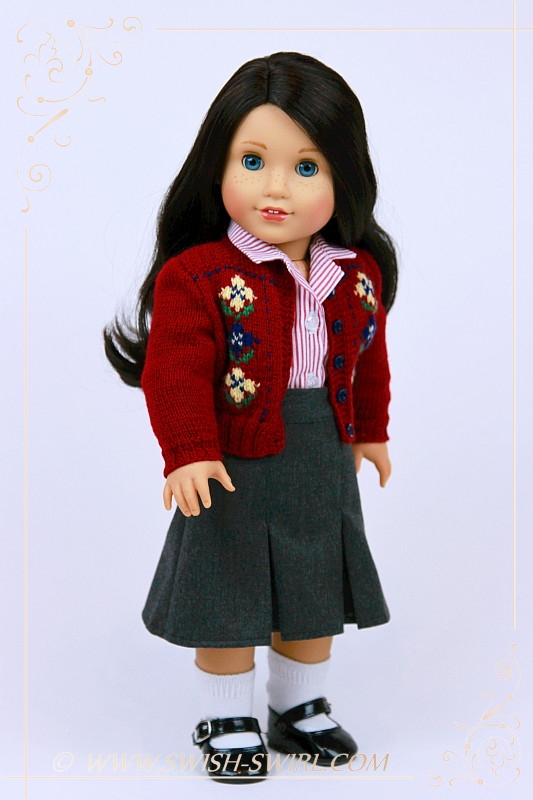 The A Girl for All Time cardigan also fits Sasha dolls (as do most of my knitting patterns for these dolls).
The current two patterns fit two popular sizes: the 16-inch A Girl for All Time and Sasha dolls and the standard 18-inch dolls such as American Girl. However, I've been asked to re-size this pattern to fit 14-14.5 inch WellieWishers and Heart For Heart dolls, so I have put it on my list. I am also thinking about making it for yet another size: for Kidz'n'Cats, Carpatina, Gotz and Zwergnase Junior dolls (they are all pretty similar in their size). What do you think? Would you like me to make it for these dolls?
Finally, this pattern has been successfully tested by 3 of my wonderful testers. Below are some of their photographs. As you can see, the colour variations are endless and only your imagination is the limit!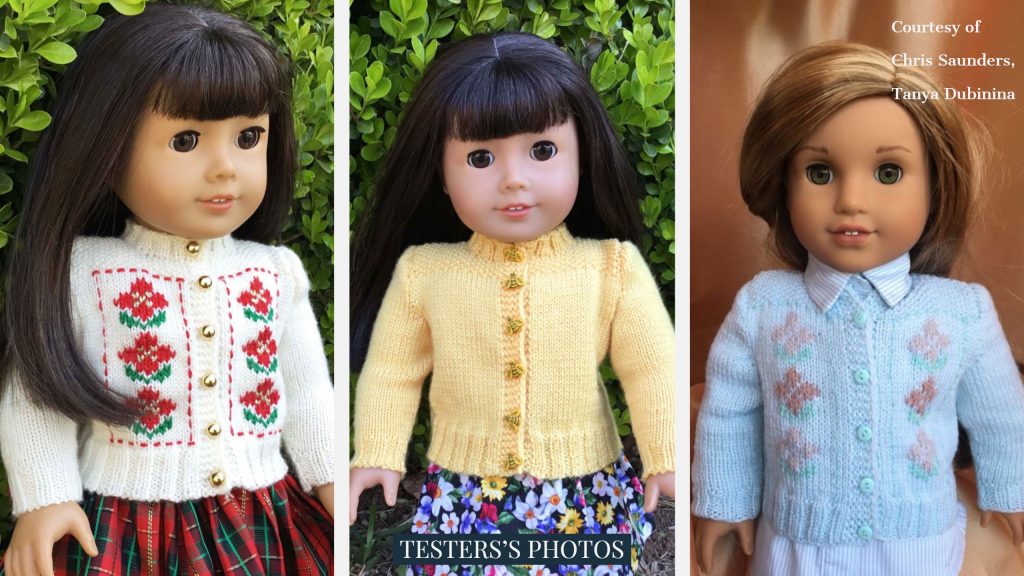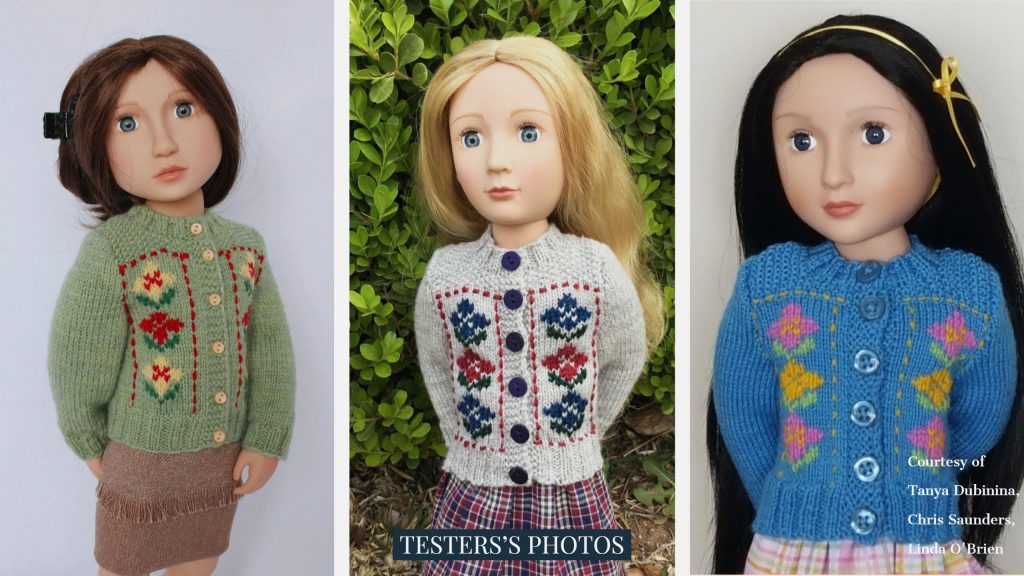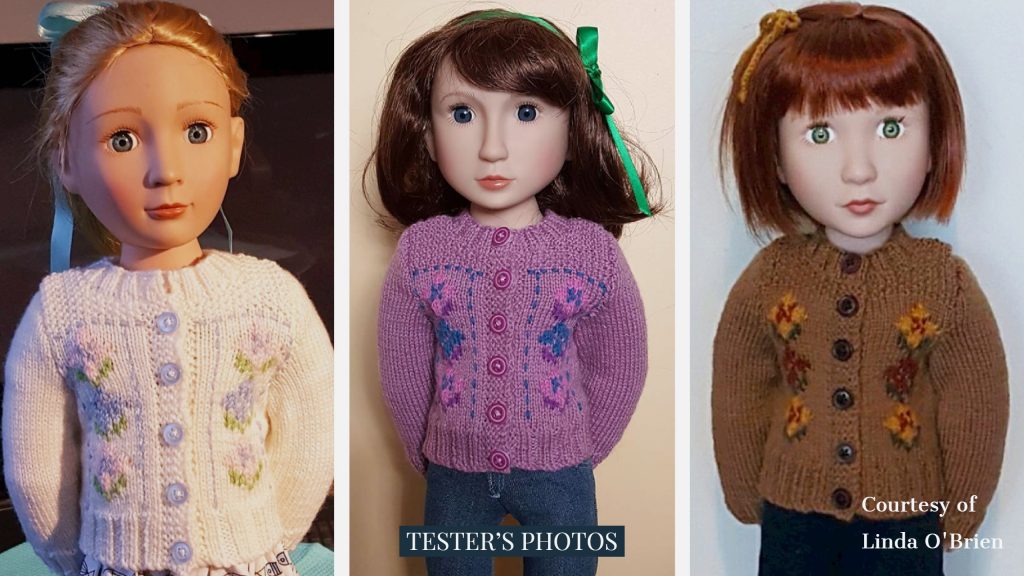 Click here to purchase #SS1940-K02: Lucy Cardigan for 16-inch dolls pattern in my Etsy shop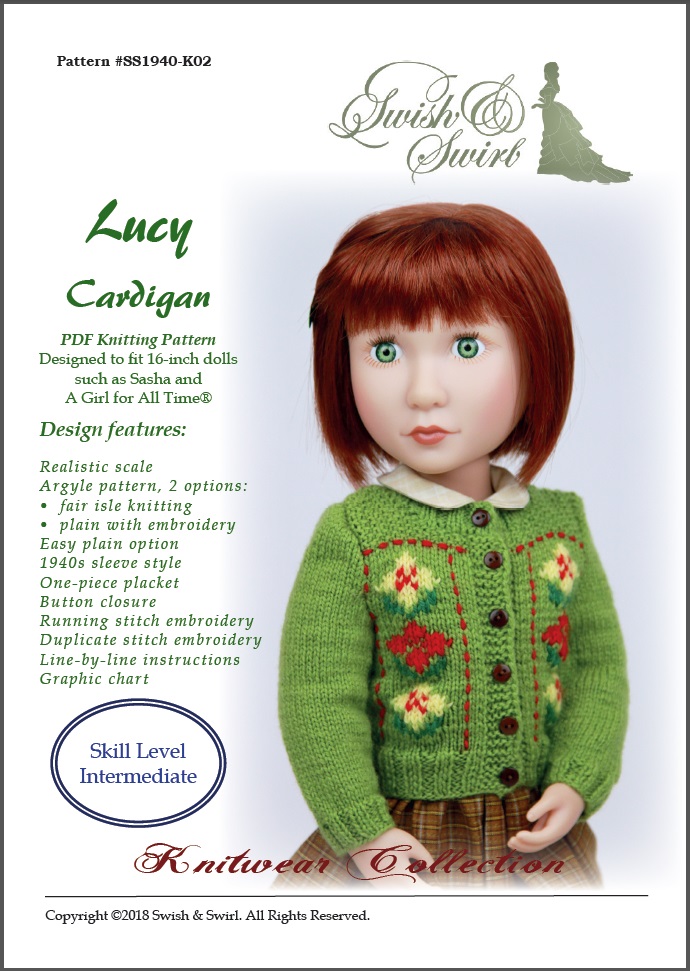 Click here to purchase #SS1940-K03: Lucy Cardigan for 18-inch dolls pattern in my Etsy shop