Finally it has happened! A new A Girl for All Time doll – Lydia – has just been released! To the utter excitement of us, the fans of these amazing dolls, and of many girls across the world.
For those, who haven't discovered these gorgeous dolls yet, I will remind that these are British dolls. Each doll represents a particular period in English history. And that's the beauty of it: this company really encourages intelligent play, as these dolls are both beautiful and educational. They also particularly appeal to older girls (and adults, too, of course!), because they are not 9-year-olds like, say, American Girl dolls, but are older themselves, being 12-13 years of age in the beginning of their stories. There are currently 4 dolls in the line: Matilda, Amelia, Clementine and now also Lydia. Matilda is a 13-year-old Tudor girl from 1540, Amelia is a 12-year-old Victorian girl from 1880, Clementine is a 12-year-old girl from the 1940s (WWII). And Lydia? Well, we'll talk about her a bit later!
Each doll comes with her own story. At the moment only books about Matilda and Amelia are available and they are extremely engrossing. My 10-year-old daughter finished each one of them in just one day. It's no wonder they are so entertaining (AND educational at the same time, because they don't soften the real history, there are a few – sometimes pretty horrible – things even I didn't know!), for the author of the books is a well-known screen-writer Sandra Goldbacher (for example, she adapted Noel Streatfeild's Ballet Shoes for a recent BBC film with Emma Watson – a film that my daughters love and can watch endlessly!). The Clementine book is supposed to come out very soon. And of course, the story of Lydia is now going to be very anxiously anticipated!
By the way, in case you are interested to learn more about these dolls, I have written reviews about the first three dolls before: Matilda, Amelia and Clementine.
Now, to Lydia! Lydia Peyton is a Georgian girl from 1760. As I said, her book is not available yet, but it is known that Lydia is the first girl in the family who does not stay in England but is going to America, to Boston. What adventures are waiting for her there, I wonder? And I still hope she returns to England in the end (otherwise, how is that her descendant Amelia lives in Victorian England?).
I have ordered not one, but two Lydias! One for me and one for one of my daughters for her birthday in January. For some reason, I find it really hard to share A Girl for All Time dolls with my daughters! It works with any other dolls but not with them.
I've said it before but it's really amazing that these two dolls, while being the same, are again very different – I can tell them apart without difficulty! (Mine is on the right, by the way!).
Lydia arrives in a gorgeous light blue see-through box which is tastefully and elegantly decorated.
She is very safely secured inside so there is no chance she would get damaged in shipping. In fact, she is so well secured in the box, that a child might need an adult help to free her from there!
An extract from Lydia book (as it seems) which is revealed once the doll is out of the box.
And here she is, beautiful Lydia! She has deep blue eyes and raven black hair – the combination I have a particular weakness for.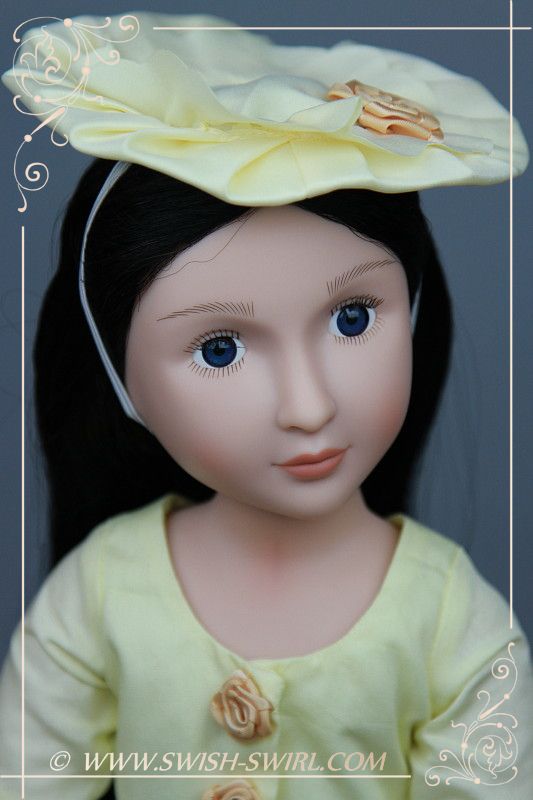 Just like the other girls in the A Girl for All Time family, Lydia is 16 inch / 41 cm tall and has jointed elbows and knees which help her pose more naturally. These joints remind me of the joints that Gotz company introduced in 2012. Arms can turn around for more natural poses and can bend at about 90 degrees – she can cover her face and eyes with her hands, for example. The knee joints don't bend that much but legs can also be turned around, so the doll looks pretty natural when she sits.
I also love Lydia's vinyl. It has a porcelain look, a velvety feel and the colour is lovely – just perfect for a period girl!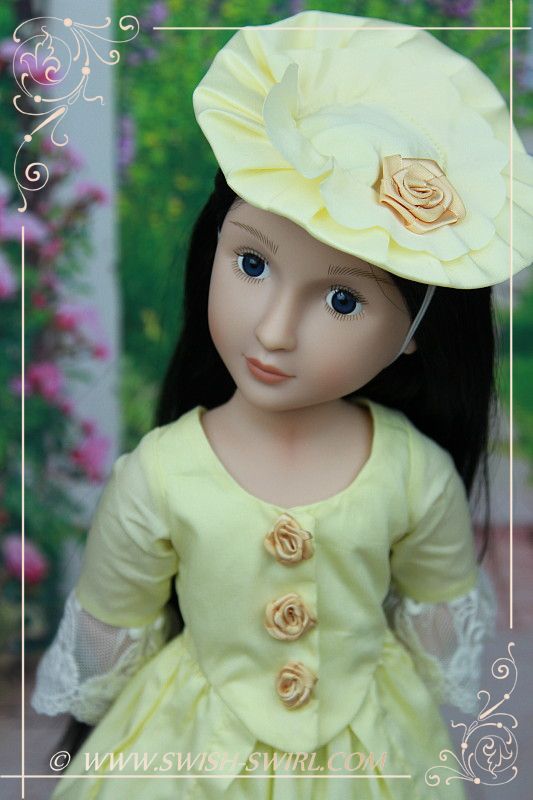 Lydia has most gorgeous deep blue eyes that always stay open (that is, they do not close). Her hair is wigged and it is truly beautiful and long. It's black but has lighter highlights which make the hair shine.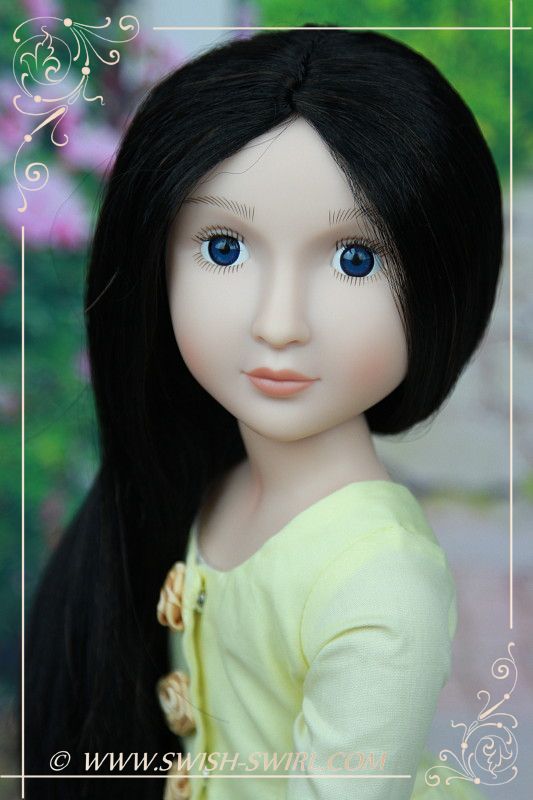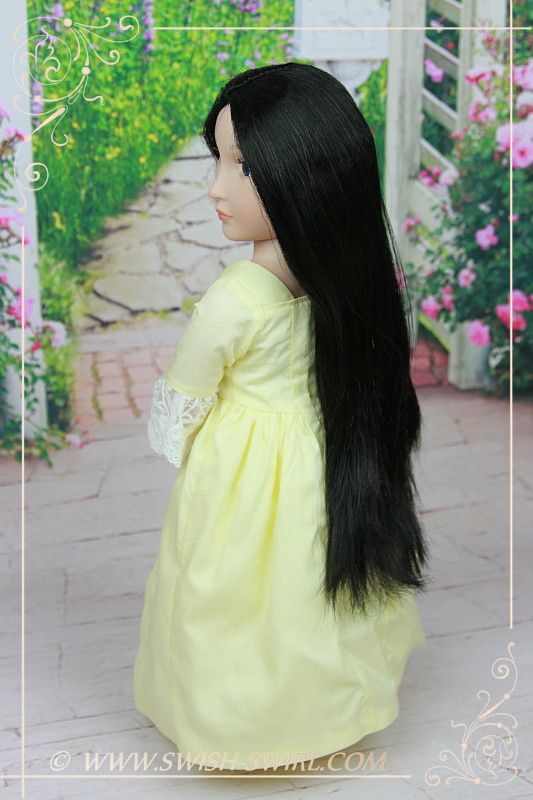 This is how Lydia's hair compares with Matilda's and Amelia's hair. As you can see, Matilda's hair is a little bit longer than Lydia's, otherwise they are both very similar.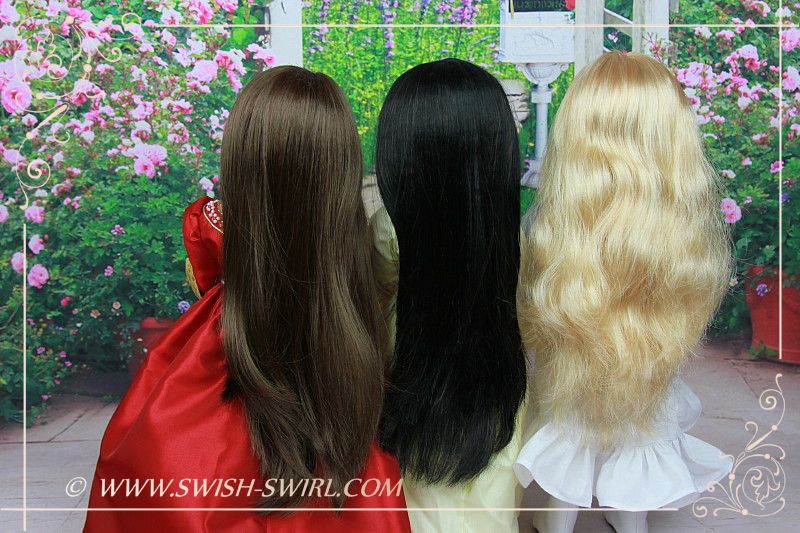 Lydia's outfit deserves special mentioning. It was designed by Shari from Thimbles and Acorns. I've been admiring her work for quite some time, and it is wonderful that she worked on this project as well! It makes it really special! The whole outfit has a really authentic feel about it.
Just look at that lace and those silk roses!!
And what a gorgeous hat!
A view of the dress from the back.
And it's those little historical details that turn a simply gorgeous outfit into an authentic one! There is a slit opening on the right side of the gown and the underskirt. What do you think it is there for? Well, yes, it is a kind of a pocket! Of course, people in those times didn't have pockets as we have them. Pockets that looked more like bags used to be tied up around the waist under the skirts and were accessed through these slit openings.
The gown, in the true spirit of the period, consists of two parts: the gown itself with an attached upper skirt and the underskirt. The gown closes at the front with 2 snaps and is decorated with silk roses.
I just love how the back of this gown looks!!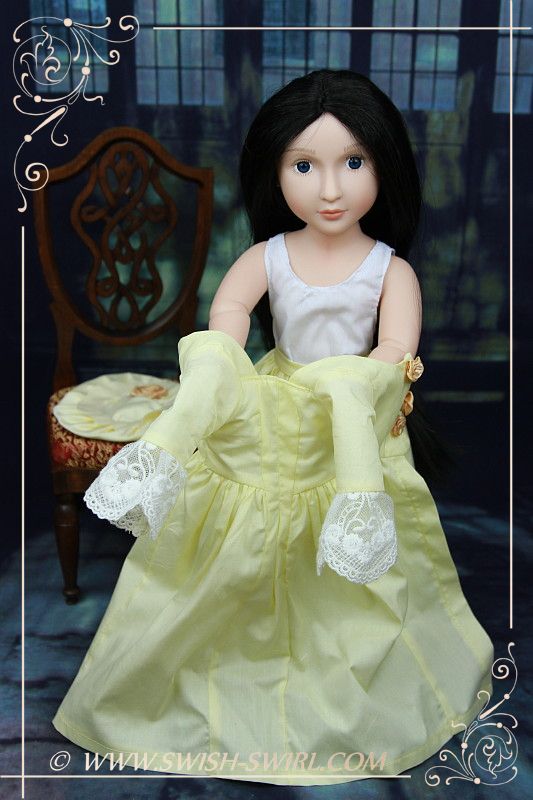 Next layer is the underskirt.
The underskirt closes on the left side with a snap.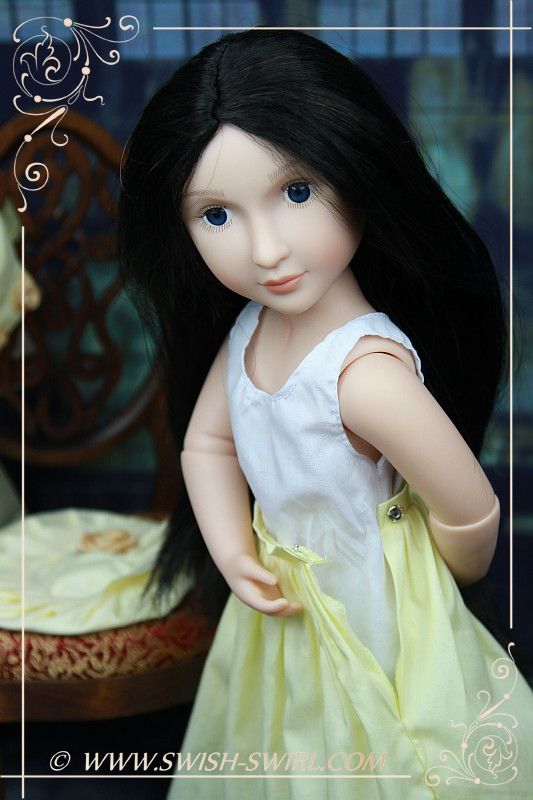 Underneath the gown there are a cotton shift and pantaloons.
The shift closes at the back with a snap.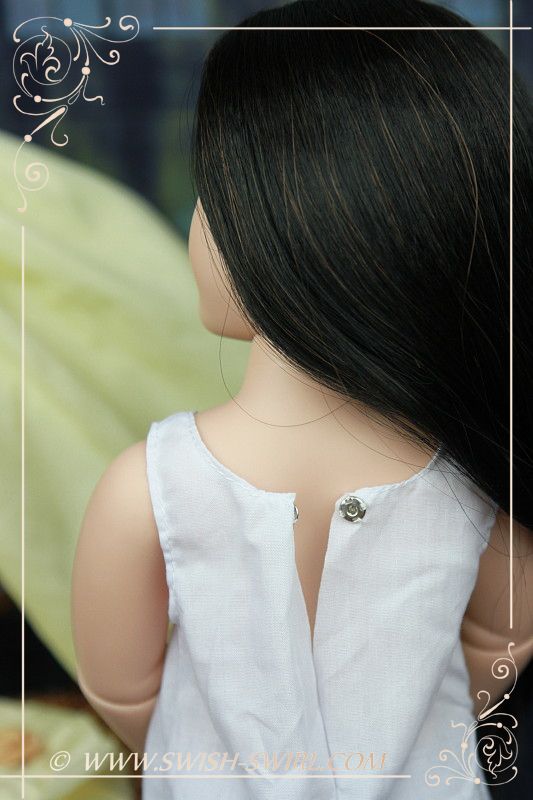 And here are the simple pantaloons.
Brocade slippers and white socks complete the outfit.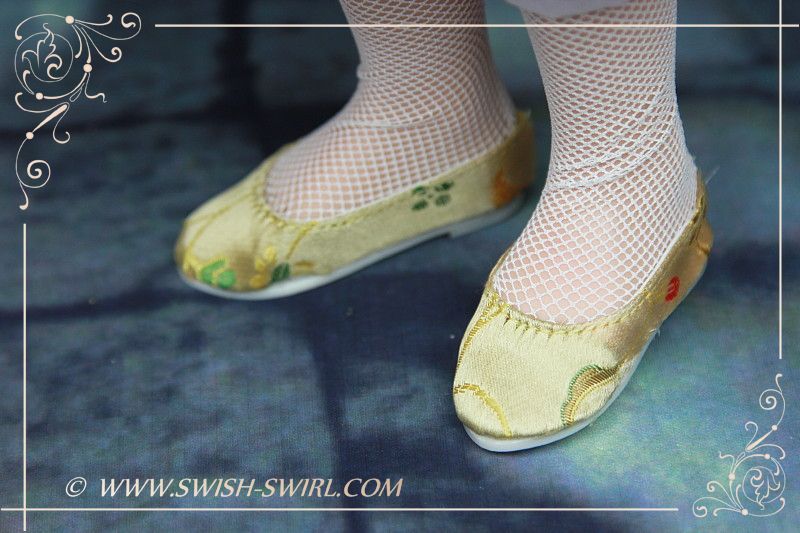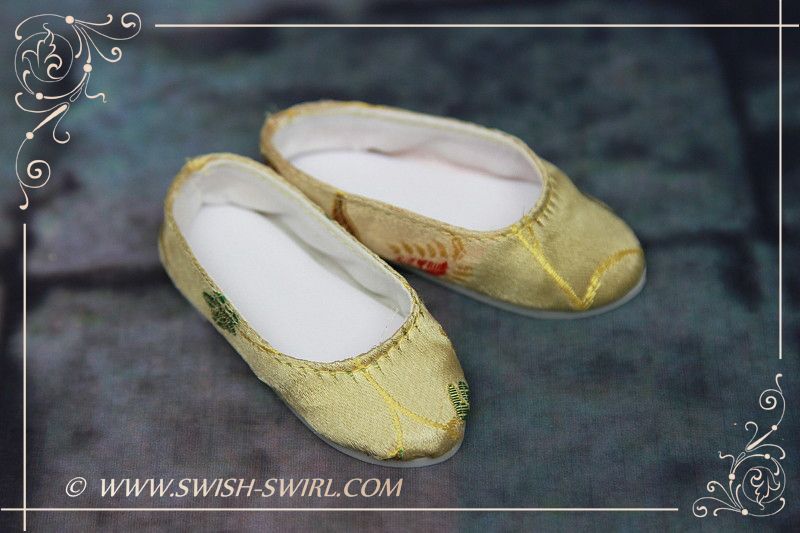 A bonus: Matilda and Lydia together. I just love how beautiful they look next to each other!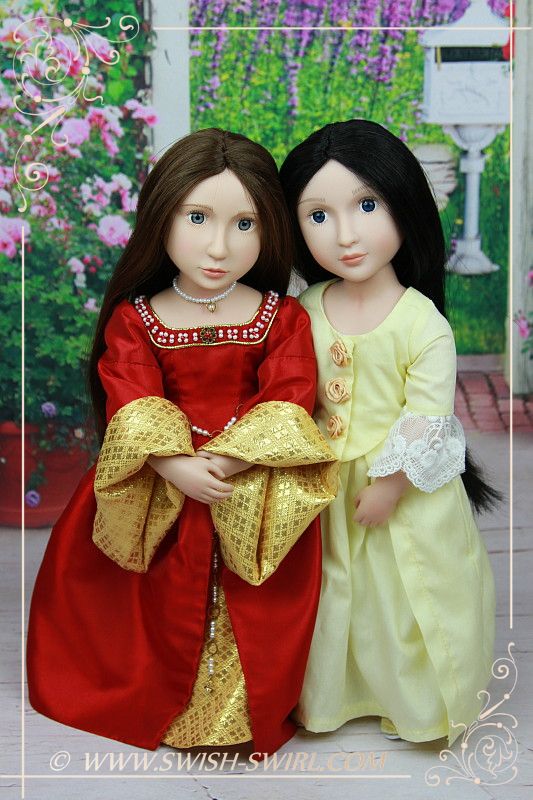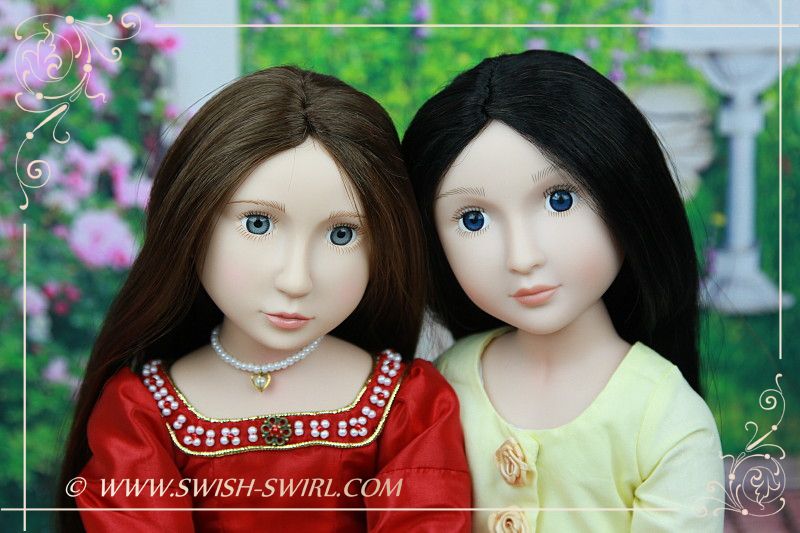 So, as everyone can see, Lydia is undeniably gorgeous. She is extremely well made. The outfit is beautiful and has an authentic feel about it. This doll is a treat for both girls and adult collectors! Yet another success for A Girl for All Time creators and Frances in particular!! WELL DONE!!
And, of course, now that my other daughter (the one who has Amelia) has seen Lydia, she also wants her! Yes, Lydia is THAT stunning!! I wonder, should I give in and get the third Lydia into our house??
PS. These dolls can be easily purchased from either the UK shop or the US one. International delivery is available from the UK and is very efficient. The company also has a Facebook page. And there is now a Facebook Fan Group, too (everyone is most welcome!).