Not so long ago I received my first A Girl for All Time doll – the Tudor girl Matilda. Little I knew when I was ordering her that these dolls are so addictive! And that they absolutely have no desire to live in one's house on their own! My daughter read both available books (about Matilda and Amelia) in just two days and started begging for Amelia. I guess, Father Christmas will oblige and will give her Amelia as a Christmas gift (fingers crossed, right?)!
Having read both books myself I have fallen in love with the whole world of these dolls. Which is not really surprising for an adult doll collector with a University degree in history! So, I ordered myself Clementine…
Clementine Harper… She is a girl from the World War II era who was evacuated from London in 1940 to avoid bombing (just like the children in The Lion, The Witch and The Wardrobe were!). The book hasn't come out yet, so not much is known about her, but she will have some adventures, of course.
The doll comes in a lovely box, though it is slightly simpler than that of Matilda. Clementine has short red hair (I would call it copper) and green eyes – the combination I have always liked. She is 16 inch / 41 cm tall and has jointed elbows and knees which help her pose more naturally.
Clementine comes in a 1940s outfit – a chiffon dress with a belt and cotton lining and underskirt. She also has a brown felt hat with a satin ribbon.
Her faux leather shoes are just gorgeous.
The outfit has multiple layers, as usual. Underneath the dress Clementine wears period underwear. The dress and the slip close at the back with snaps.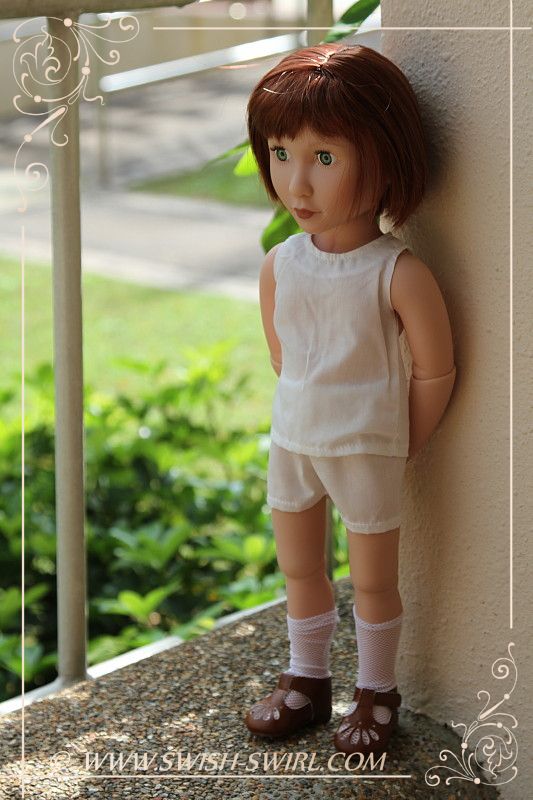 Now, what can be better than Clementine? Well, TWO Clementines, of course!!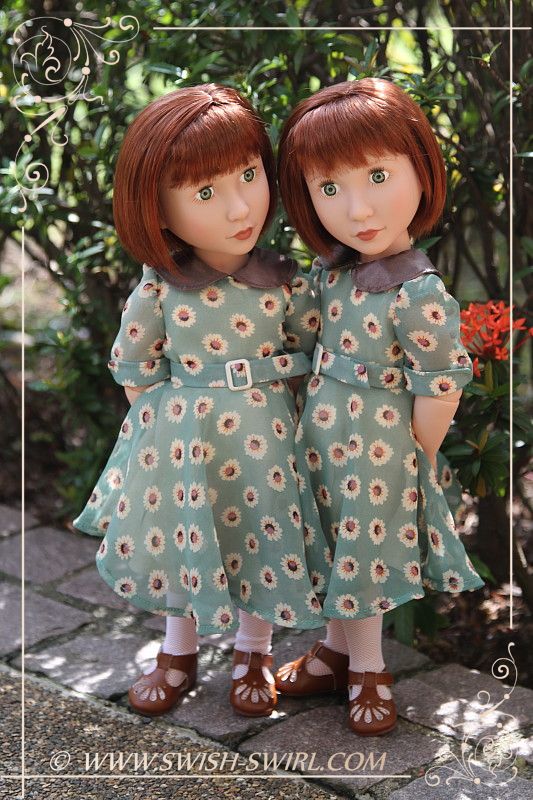 Well, the second one is actually not mine. A friend of mine who will be visiting me in Singapore in a couple of months had asked me if I could buy one for her and then kindly allowed me to take hers out of the box as well and take some photos of the two dolls together. And these two Clementines are another prove of the old rule: no dolls, however similar, are identical! I can see the difference between them, so I would identify mine without much trouble! Can you?
And here they are with their ancestor and my absolute favourite – Matilda!
A couple of bonus pictures of Matilda (the second one taken after she lost her balance and fell into a bush during the photo session!).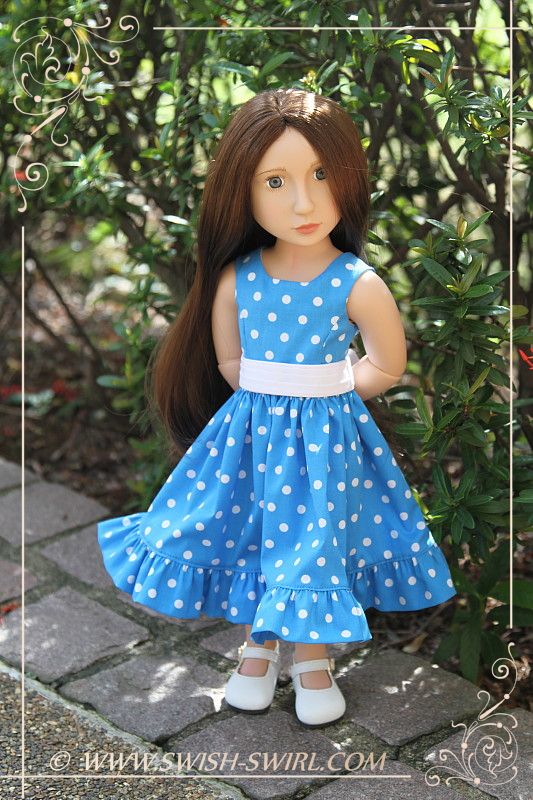 And let's see what Clementine looks like in it! I think it really suits her. But she still looks like a girl from the 1940s to me!!What strikes me in these dolls is how well they represent their own historical periods. Maybe, it's just my own unjustified feeling, but I feel that Matilda is definitely a girl from the Tudor / Medieval times and Clementine – undeniably a girl from the 1930-1950s! It feels that their features were taken from some portraits of the respective periods. It's just amazing, how much they resemble them! Even in this blue contemporary dress that I have recently made, Matilda still looks like a Tudor girl.
The bottom line? I don't think I will ever be able to resist any of these dolls. I am pretty certain all six of them (Amelia and the three dolls that haven't come out yet – or if there are any other in the future) will find a happy home in our house! The next one will, of course, be Amelia…
And my Christmas wish? I wish for Matilda's travelling trunk!! Even without the content, just the lovely leather Tudor trunk itself. Do wishes sometimes come true?
PS. Just a reminder that these dolls are very easy to buy from either the UK shop or the US one. International delivery is available from the UK and the customer service is the best I have ever experienced (my special thanks go to David – for being so helpful, efficient and friendly!!). The company also has a Facebook page which is fun.