I am very excited and happy to present this "British Girl" doll to you! Finally! Something I have been thinking about for quite a while myself (mostly just dreaming of it since I am not a doll artist and therefore there was nothing I could do about it!). I am so happy somebody else has come up with the same idea!!
Why? Well, because my daughters (and especially my eldest one) LOVE American Girl dolls. They love their stories. My 10-year-old has a huge collection of books about historical American Girl dolls and she has fallen in love with history (as much as her parents love it!). The problem is the history she is learning is all American, and she is… well, yes, British. And the only English girl among American Girl dolls that I can think of is Emily (incidentally, a book about Emily was the first one that I gave to my daughter to read and it was from Emily's story that my daughter's interest in American Girl started). And while American history is fascinating, we would love her to get really interested in the glorious British history. Now she will!!
A Girl for All Time is the answer!! The concept is, in a way, similar to that of an American Girl doll: to teach girls history (English, in this case) while playing with beautiful dolls.
There are currently three dolls: Matilda, Amelia and Clementine. Matilda is a 13-year-old Tudor girl, Amelia is a 12-year-old Victorian girl and Clementine is a 12-year-old girl from the 1940s (WWII). Judging by the Family Tree on the website and by what I have managed to find on various websites, there will be three more dolls soon: Sophia the Georgian Girl and Olivia the Restoration Girl should be released in 2014 and Elinor the Elizabethan Girl – in 2015. We really look forward to seeing those!
As I understand from the company's statement, they chose these particular periods of English history because that's what children are learning at school at this age (and indeed, in Year 4 – Year 6 children study these very periods – my daughter will be having a Victorian Day in her school later this year!).
Books with stories can be purchased separately (for Matilda and Amelia, so far). All six dolls belong to the same family tree and Matilda is an ancestor of all of them. There is a very sweet story about the key that Matilda is wearing on her neck, but I shall not disclose it now.
Now, to our Matilda. My eldest daughter actually liked the blonde Victorian girl Amelia, while my younger one preferred Matilda. I myself chose Matilda because I like long dark hair and am very interested in that historical period.
So, she is 16-inch / 41 cm tall which makes her slightly smaller than similar dolls on the market: American Girl dolls are 18 inch / 46 cm tall and much chubbier, Gotz dolls are 19.5-inch / 50 cm tall and Carpatina and Kidz'n'Cats dolls are 18-inch / 46 cm tall and also slim. However, unlike American Girl dolls and like Kidz'n'Cats and some of Gotz dolls Matilda is jointed! She has joints in her elbows and knees. They are very similar in construction to jointed Gotz dolls.
Matilda Marchmont is a Tudor Girl from 1540. I have not read her story yet as the book that has just arrived together with the doll (I bought both stories – one about Matilda and the other one about Amelia) was immediately expropriated by my 10-year-old daughter. She loves it and keeps carrying it around with her (even to school!). I just have to wait for my turn, I guess. From what my daughter says and from what I have read here and there while scanning through the book, it is a much more grown-up and serious book than stories from American Girl. The author of the books is a well-known screen-writer Sandra Goldbacher (she adapted Noel Streatfeild's Ballet Shoes for a recent BBC film with Emma Watson). But these books seem to show real history which is really fascinating even though it may be scary sometimes. Just to mention that Matilda's second cousin was infamous Anna Boleyn, and in this story Matilda goes to Henry VIII's Court to become a Maid-Of-Honour to the Queen Anne of Cleves together with her other cousin, Katherine Howard…
Matilda arrived in a really beautiful box. I usually don't take photographs of dolls' packaging, but this time I couldn't resist – it was so special!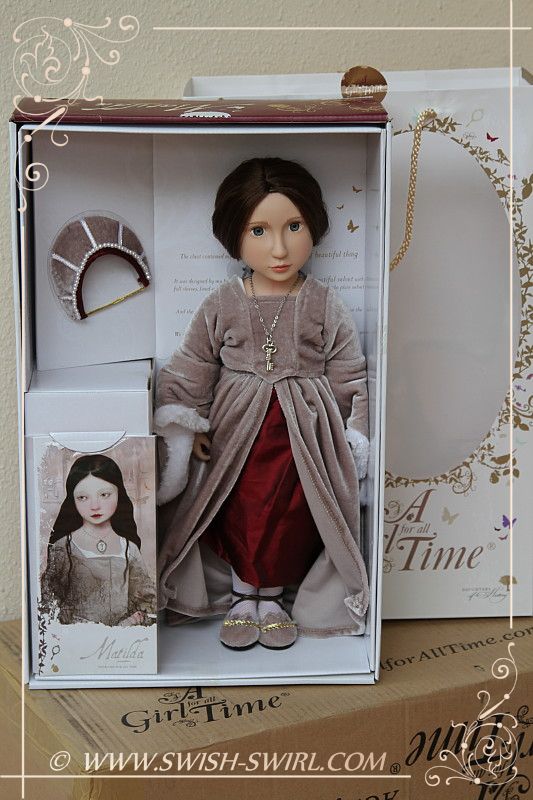 Matilda is dressed in a gorgeous velvet Tudor Court dress with fur sleeves and a french hood. I really liked the quality of the outfit and the attempt to make it as authentic as possible on a play doll scale.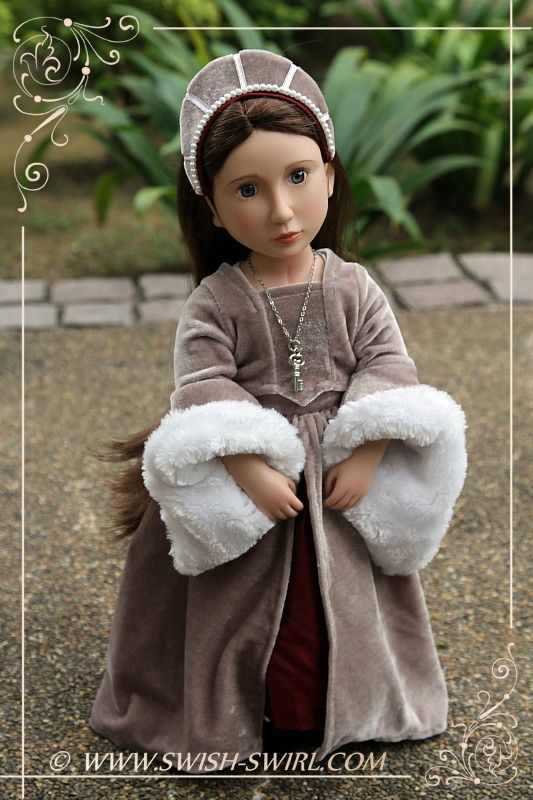 The outfit has multiple layers – cotton shift and pantaloons, organza petticoat and also socks and velvet shoes. The dress has separate skirt and top. What really impressed me is that only snaps are used for fastening – there is no velcro!

I love Matilda's hair. It is very realistic. It may not be as thick as some dolls' hair, but, actually, for the first time I found it easy to make realistic looking hairstyles with it! For example, I tried a hairstyle of my favourite 1830s (a la Jane Eyre) and it worked! The bun was just the right size, not too large as it would be with very thick hair. And the hair is exquisitely long and silky and goes down to Matilda's knees! It is a wig, of course.
I also love Matilda's vinyl. It has a velvety feel and the colour is lovely – just perfect for a period girl! I find that her head can easily be moved into different positions – in fact, I don't think I have ever experienced such a delightful ease of head movement in any of the dolls before – either play dolls or BJDs.
Matilda's joints remind me of the joints that Gotz company introduced in 2012. Arms can turn around for more natural poses and can bend at about 90 degrees – she can cover her face and eyes with her hands, for example. The knee joints don't bend that much but legs can also be turned around, so the doll looks pretty natural when she sits.
With Gotz doll Emily and Kidz'n'Cats doll Grace.And here is how Matilda compares with other similar dolls.
With American Girl doll Saige.
So, what will happen next? No doubt, soon we will welcome more dolls from this lovely company in our house! My daughter is asking for Amelia and also we are anxiously waiting for the release of the next doll. I wonder who she will be – Olivia, Sophie or Elinor?
And yes, I am already deep in my books on Tudor costumes (The Tudor Tailor and The Tudor Child) – I am really looking forward to making something special for my Matilda!
PS. These dolls are very easy to buy from either the UK shop or the US one. International delivery is available from the UK and is very efficient (I honestly didn't expect to receive the doll within just a few days of placing an order!!). The company also has a Facebook page.