I can almost bet that chances are you haven't seen these dolls before. Or you might have seen some photos somewhere but didn't even know who they are. These dolls are relative newcomers to the doll market but they are gaining popularity. So, let me introduce a Bonnie & Pearl doll to you!
Bonnie & Pearl dolls came to the market only a year ago, in September 2013. The company is based in the UK, in Wales, so it's yet another British doll company. It is lovely to see that more and more British dolls are becoming available (A Girl for All Time is and always will be my personal favourite plus there are a couple of other companies  – My London Girl and My Lookalike, in which I am not interested for various reasons). The creators of Bonnie & Pearl wanted to make a doll who would be a friend to a girl. Actually, even the name of the company came from the names of their childhood dolls!
At present, there are seven dolls in the line – with the same face mold but with different eyes-hair-skin combinations: 2 blonds, 1 redhead, 3 brunettes and 1 doll with curly black hair. Two dolls have blue eyes and the rest are brown-eyed. And out of 7 dolls two have dark skin which is really lovely.
I really had difficulty choosing just one!! In the end, I decided to go for the doll with light skin, red hair and blue eyes.
The doll arrived in a lovely box inside a shipper (the best way of doing it – I wish Gotz dolls had shippers, when I had my own doll shop it was so hard to find postal boxes for them!!). The box is very colourful. Not quite to my taste but I guess the overall style of the box must appeal to girls. In my opinion, there is too much pink, even my favourite blue doesn't overshadow it. But then, I don't like pink! The anime style of the little girl with a dolly doesn't appeal to me either, but as an adult doll collector my opinion hardly matters in this case – as long as girls like it.
The doll inside the box is well attached, her legs are wrapped in tissue paper and her arms are covered with plastic (just like Tonner dolls).
Doll's hair is well protected by a net and secured with a pretty hairpin.
A nice surprise comes when you see that her box actually doubles as a bed! It comes blank so girls can decorate it as they wish. There is also a pillow for the doll.
Here are the first photographs of my doll. She is very pretty and unique looking. She is even better in person!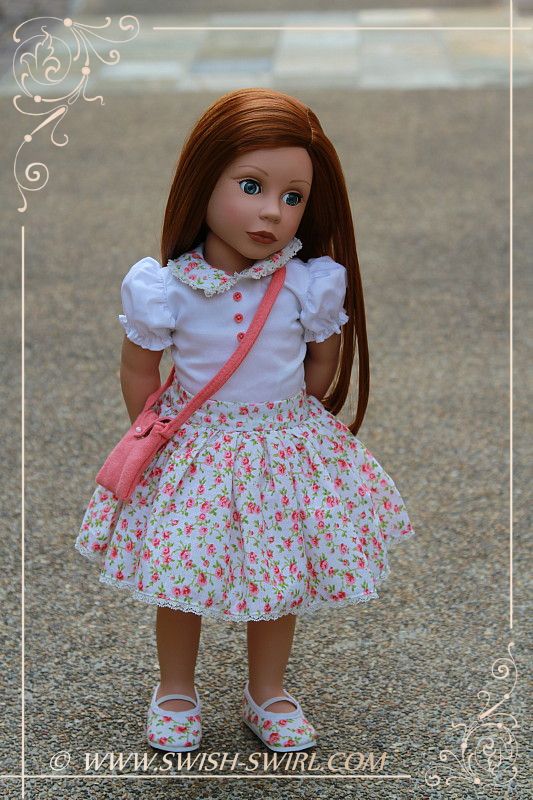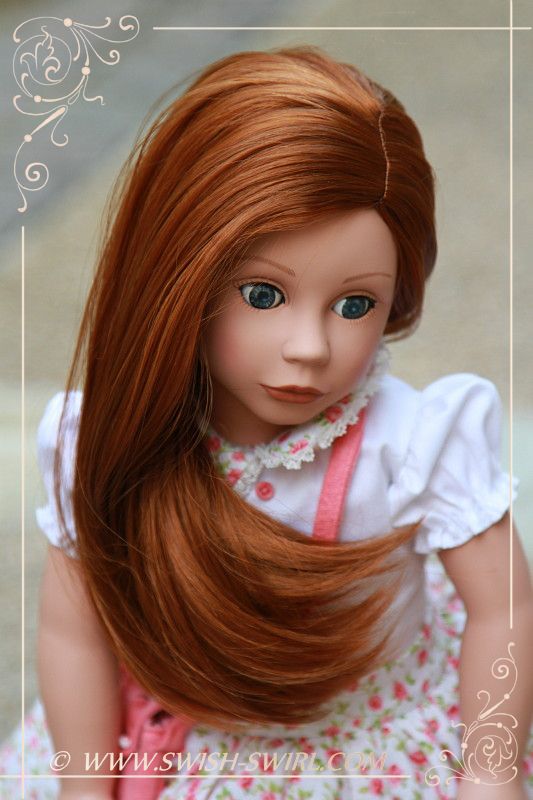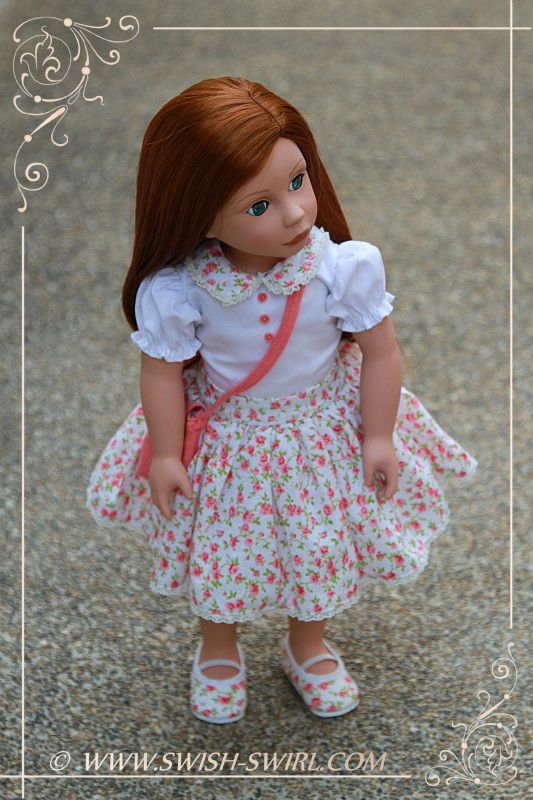 The doll is 19-inch (48 cm) tall and she looks great next to American Girl dolls.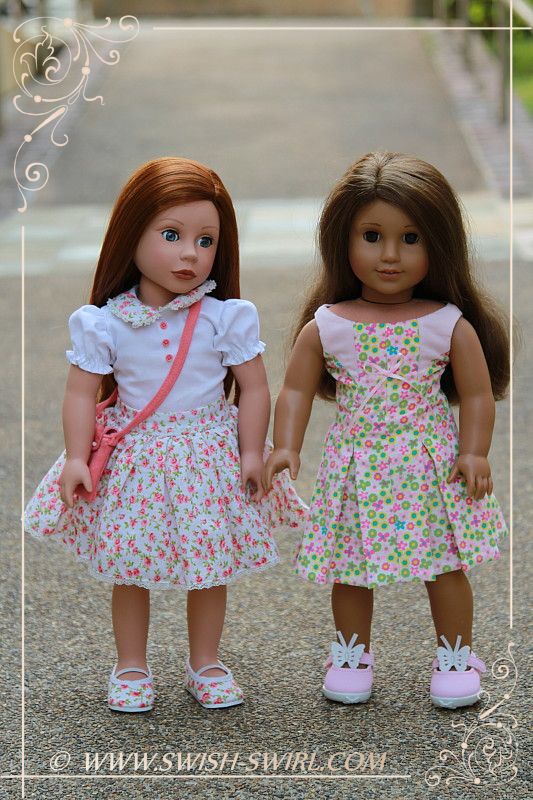 She has most gorgeous hair. It's a wig and it is long and thick. And I simply love the colour!
The outfit is beautiful and is very well made. It consists of a blouse, a skirt with a tulle petticoat, a handbag, shoes and panties. She also has a pink bow hairpin but I took it off because I didn't want to crease her hair.
Shoes.
Handbag made out of knit fabric.
The blouse closes at the back with a velcro and the skirt has a velcro and a snap closure. Well, as I said before, I don't like velcro on doll clothing (another thing for which I always praise A Girl for All Time dolls – one of many). But then, American Girl dolls also have velcro, and it is easier for girls, so I don't really mind (especially, since my doll is going not to wear this outfit, I will make something else for her soon!).
The doll is vinyl, except for the 2/3 of her lower body which is soft cloth. Again, generally I prefer fully vinyl dolls. But, on the other hand, I have quite a lot of American Girl dolls whose body is also soft, and I love them despite it. At least, the top of her body is pretty and she can wear open sundresses. The colour of vinyl is lovely. It is slightly pinkish and it reminds me of Gotz dolls.
As it has turned out, this doll is slimmer than American Girl dolls! This dress that I made for AG dolls and fits them snuggly looks loose on B&P doll. Her shoulders are definitely narrower as, in fact, is also her waist. I have also discovered that Bonnie&Pearl clothes don't fit American Girl dolls, they are too tight and can't even be fastened.
The AG trousers fitted my B&P doll quite well, but the top is again loose and too wide at the top (so the straps don't fit well on her shoulders).
Bonnie&Pearl and American Girl dolls have quite similar looking arms, but B&P doll's ones are somewhat slimmer.
What really surprised me is that Bonnie&Pearl dolls can't wear American Girl doll shoes as their feet are much larger.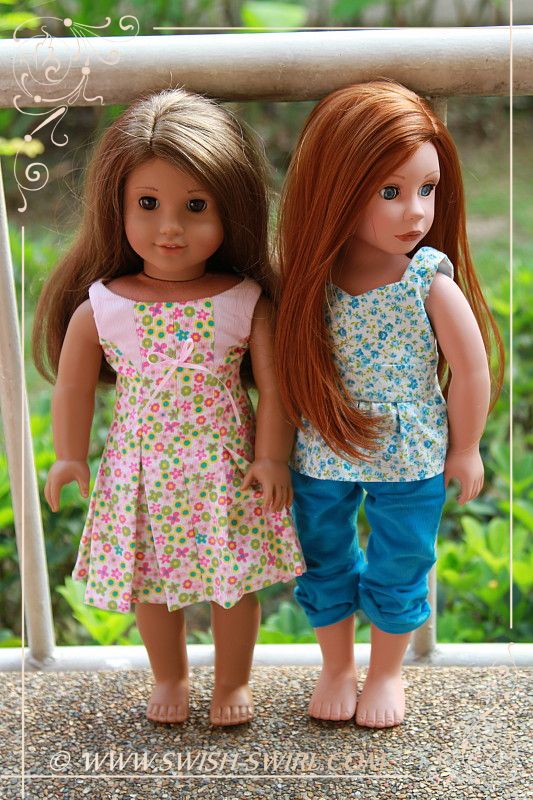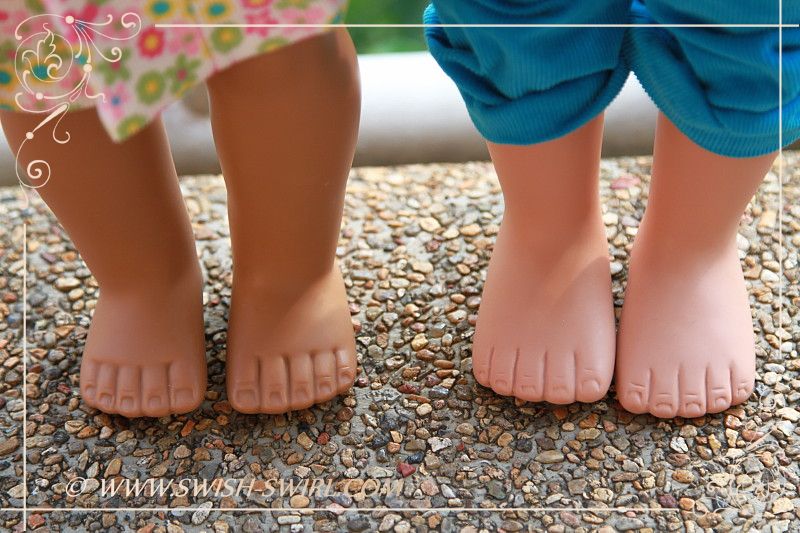 But, I think I might have found someone who can share shoes with her – that's Australian Girl dolls! Their feet are almost the same!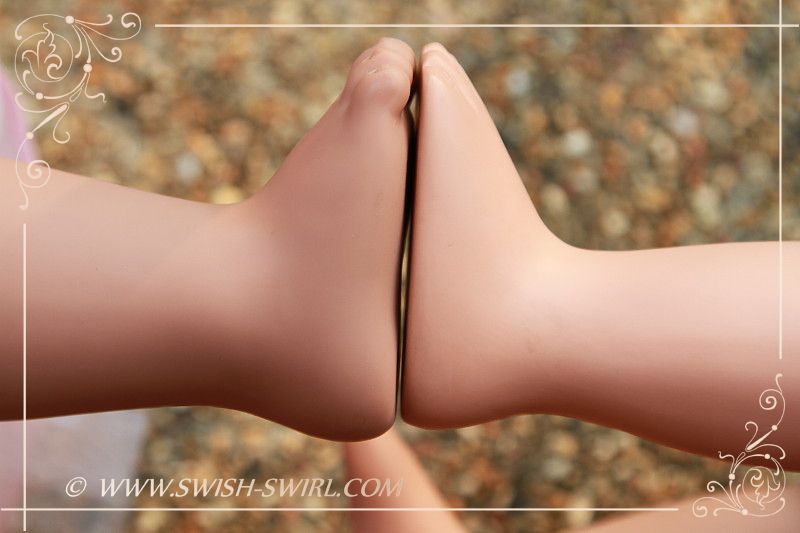 The only problem that I have found with my doll is her eyes. She has sleepy eyes, that is, they can close. I must confess that I found them scary at first, because they are very shiny and don't have a very defined black pupil. At certain angles they shine back like cat's eyes (when the pupil becomes grayish-blue, too). It's visible on this photo (the left eye especially). I have encounted similar eyes before – in ball-jointed dolls (BJD), and I have never liked them. They may look realistic and pretty at some angles, but at the others they don't. I would certainly prefer simple blue eyes with a well defined black pupil. I even thought I wouldn't keep this doll just because of this one issue, but my daughters didn't notice it at all. And after a while I got more or less used to it, too.
In fact, my 6- and 10- year old daughters loved this doll at first sight! Which is very unusual for them. They love American Girl and A Girl for All Time dolls, but other dolls don't excite them in the same way. This doll did!
When this doll was on her way to me, I kept calling her Bonnie, but I felt she should have a different name. I couldn't decide on a name for a long while – until I tried to style her hair into a bun. And the name came to me immediately.
She is Tris (short for Beatrice). (Yes, I am a big Divergent fan!)
I think blue colour really suits Tris.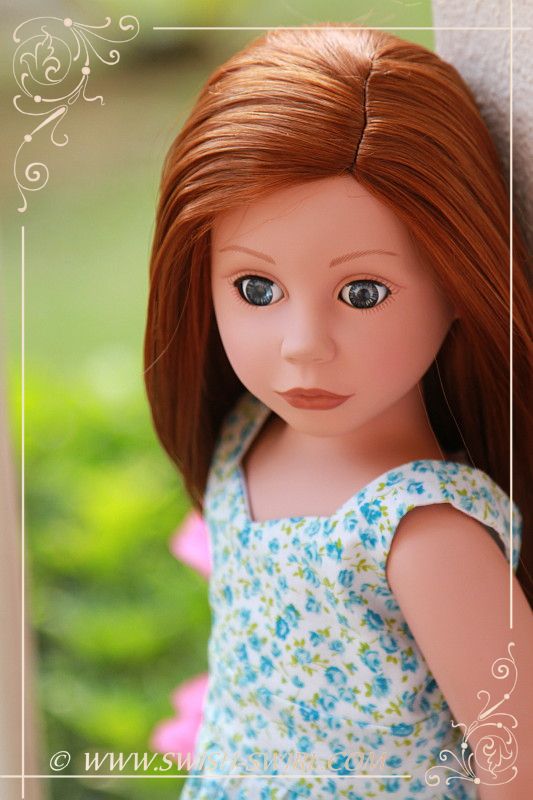 So, the bottom line. This Bonnie & Pearl doll is gorgeous. She is very well made and children clearly like her. I am so fond of her now that I've decided to try out a similar doll but this time with brown eyes. After lots of browsing on Bonnie&Pearl Facebook page my eldest daughter and I chose a blond one with brown eyes (because she is beautiful and looks consistently good on all photographs). She is already on her way to us.
Special thanks go to My Doll Boutique shop in the UK where I bought this doll (and also the second one) – for an outstanding customer service. I am truly impressed at how quickly they reply to enquiries and ship dolls. I would highly recommend them to anyone! I certainly know which doll shop I will be ordering from when we move back to the UK!!!