I discovered these gorgeous dolls about 4 years ago and immediately fell in love with them. These are the first ever Catholic dolls, so they spoke right to my soul.
These dolls are created by the Kiczek family, a Catholic family who suddenly realised that there were no dolls on the market that would inspire children to come closer to God. In their own words, "we created Dolls from Heaven with the goal of bringing young children closer to God through the lives of the Saints. We hope that our dolls will encourage young children to make Jesus the focus of their lives.". You can read their full story here.
Currently there are 4 different dolls available (St Therese of Lisieux, St Joan of Arc, St Pope John Paul II and Mary of Nazareth) but when I got my first Dolls from Heaven doll there were only the first two of them. And I chose the doll that started the company in July 2015 – Saint Therese. All of these dolls come with an outfit based on what the Saint wore during her or his life and a book about the Saint.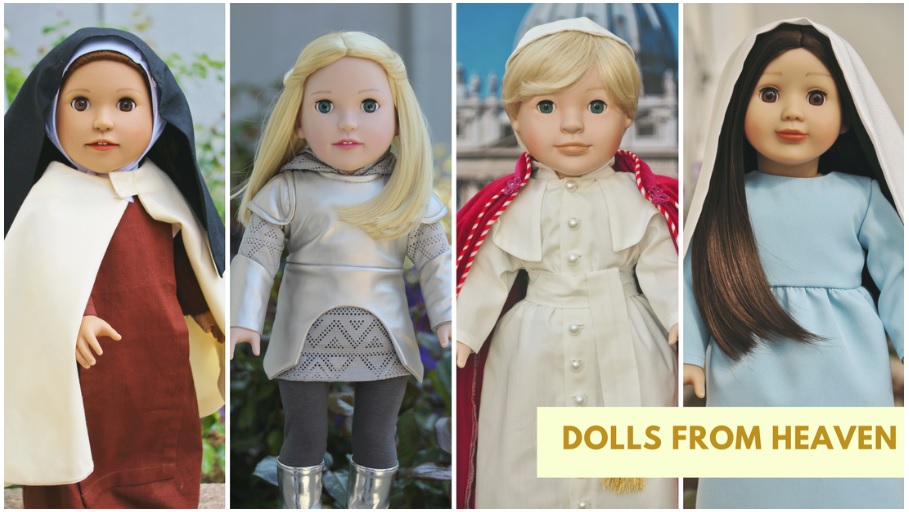 So, here is my St Therese doll.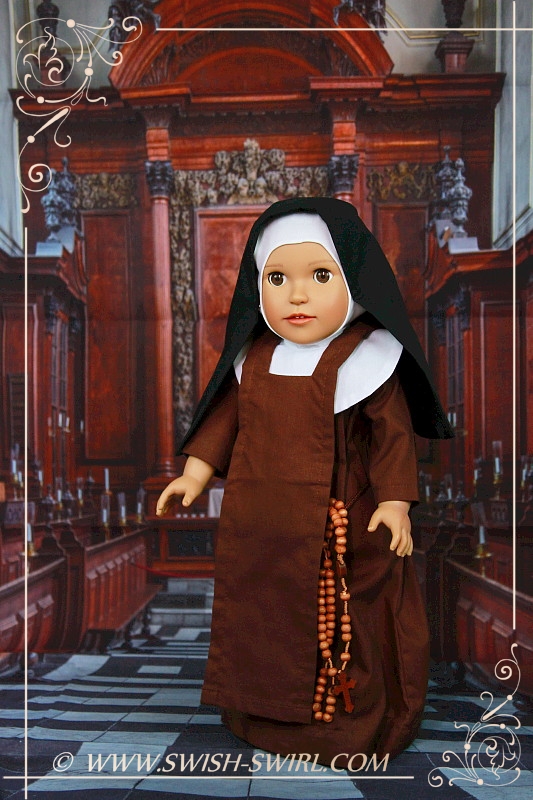 All Dolls from Heaven come in beautiful light blue boxes.
I also ordered a set of accessories with a mantle, a rosary and a prayer card. I usually don't order any extras with dolls as I normally don't need their outfits but not in this case! When I opened the box, it smelled of roses inside!
Here is the mantle and the wooden rosary.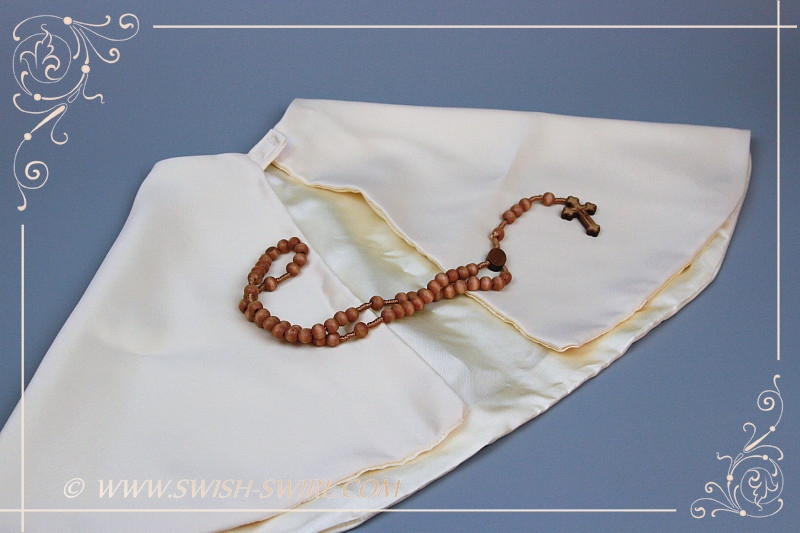 The outfit of St Therese is amazing! It is very well done and has multiple layers. And I mean, really a lot of layers! It is a Carmelite habit and therefore it is brown. It consists of the brown tunic with a rope belt, a coif and a guimpe (a hood and a collar), a long brown scapular and a black veil.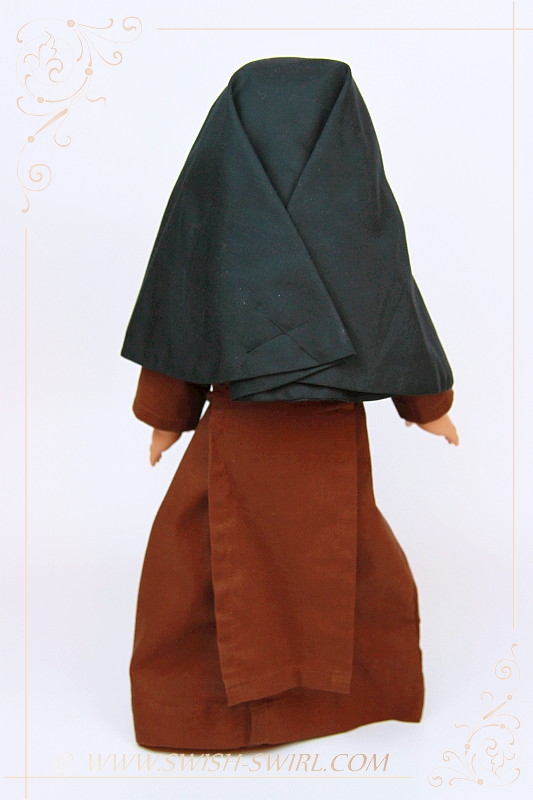 Let's look at the details of the outfit. The black veil is attached to the white coif with snaps on either side.
The coif is gathered at the back of the doll's head to keep the right shape. Once the veil is removed and the hair is released from the hair net, the true beauty of the doll is revealed – her magnificent hair!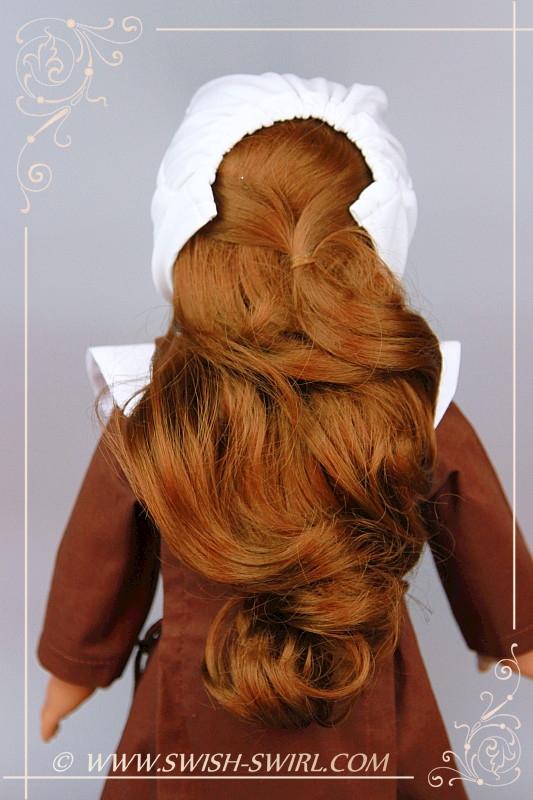 The long brown scapular is simply put on and off through the doll's head.
The round cotton guimple is secured at the back of the doll's neck with velcro.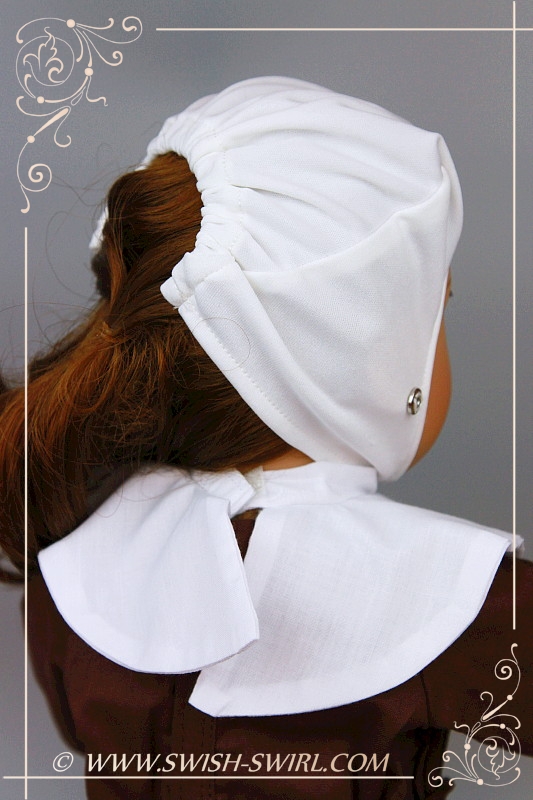 The brown tunic underneath is simple. It would have been woolen in real life but the doll's one is made of cotton, I think. The tunic is closed at the back with the full length velcro.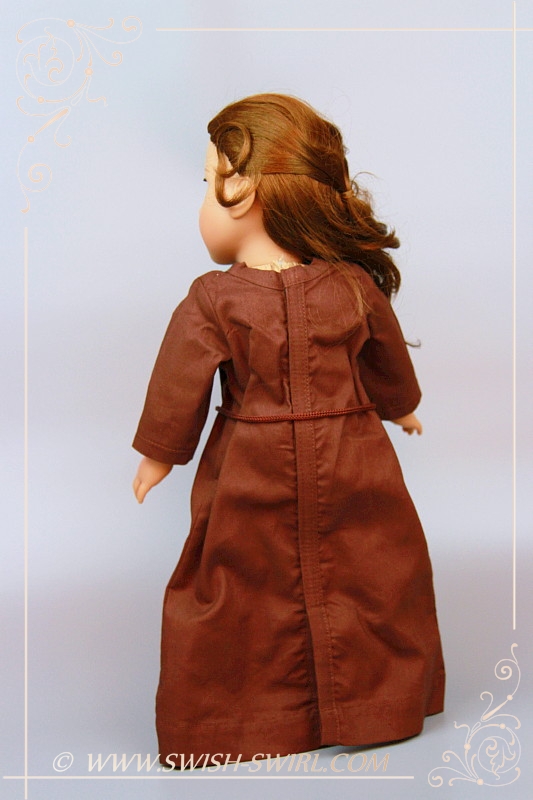 A close up of the rope belt.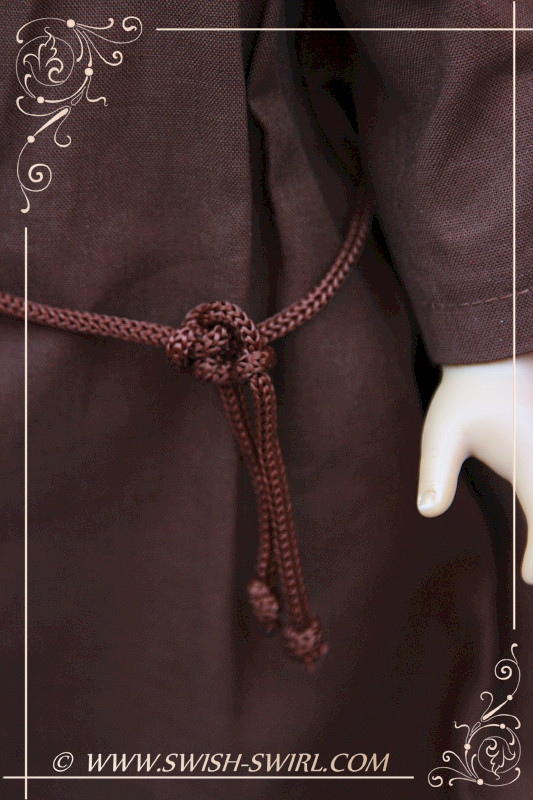 A close up of the velcro closure.
I really love Therese's brown sandals! They are just gorgeous! And look at her toenails! They are so realistic!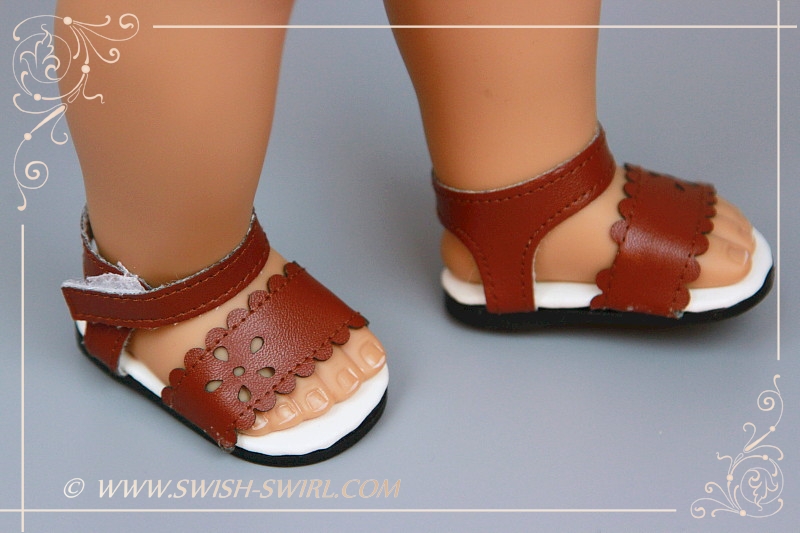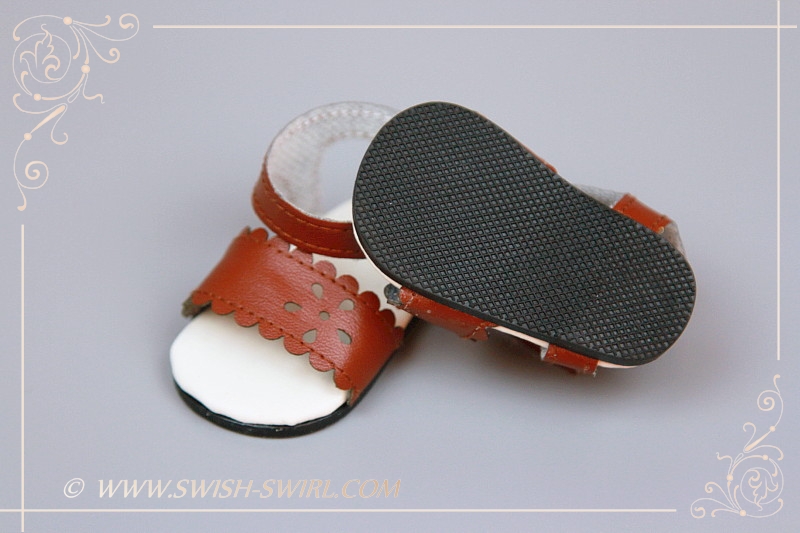 St Therese, like all Dolls from Heaven, is a standard 18 inch doll and is similar in size to American Girl dolls. As you can see on the photos below, the bodies are practically identical. The only difference is their heads – St Therese's head is a bit bigger. St Therese's eyes are brown and they can close.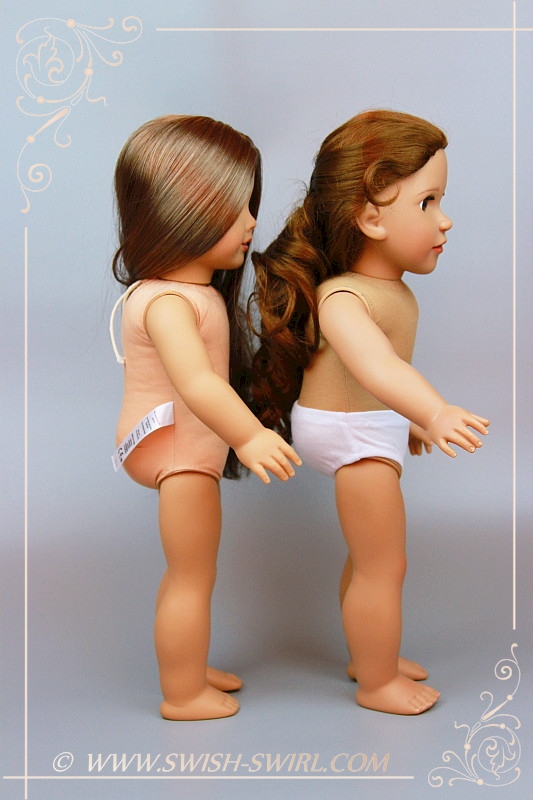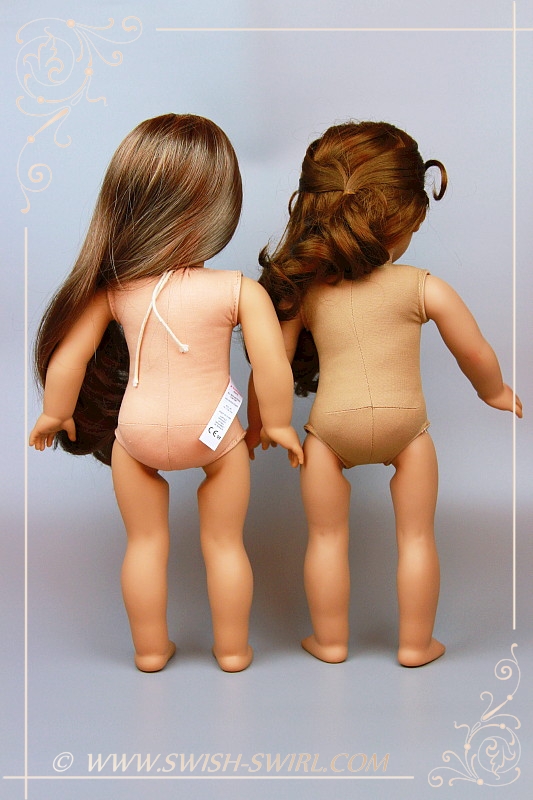 I really love St Therese realistic nails! She also has blushing on her legs and arms!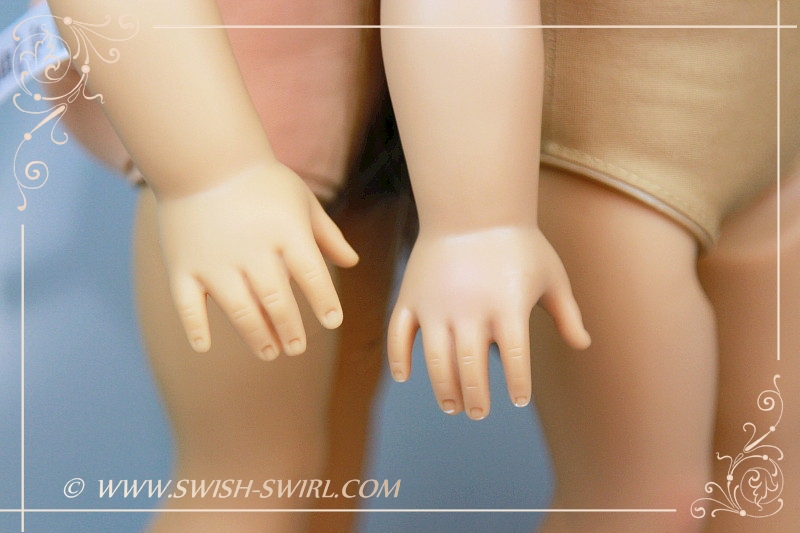 The feet are identical to American Girl as well so there will never be a problem with finding shoes for St Therese – any AG shoes would fit her!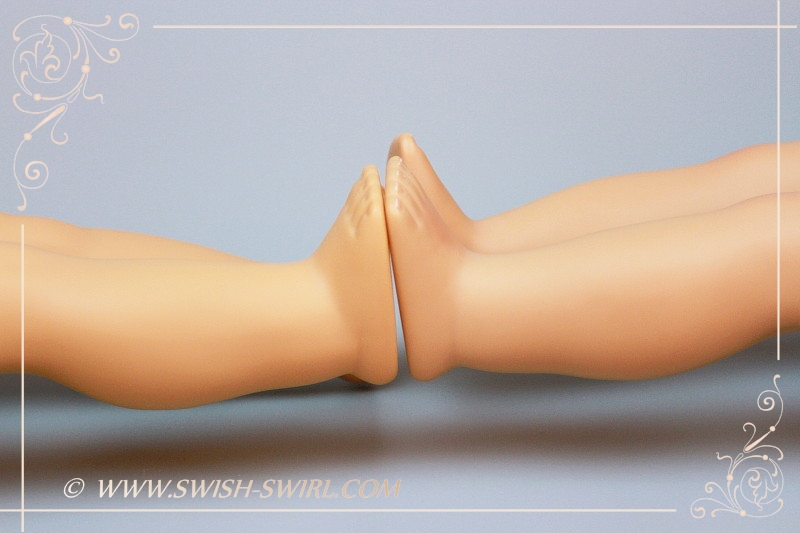 St Therese's brown hair is truly gorgeous! It is a wig and it falls down in beautiful thick waves.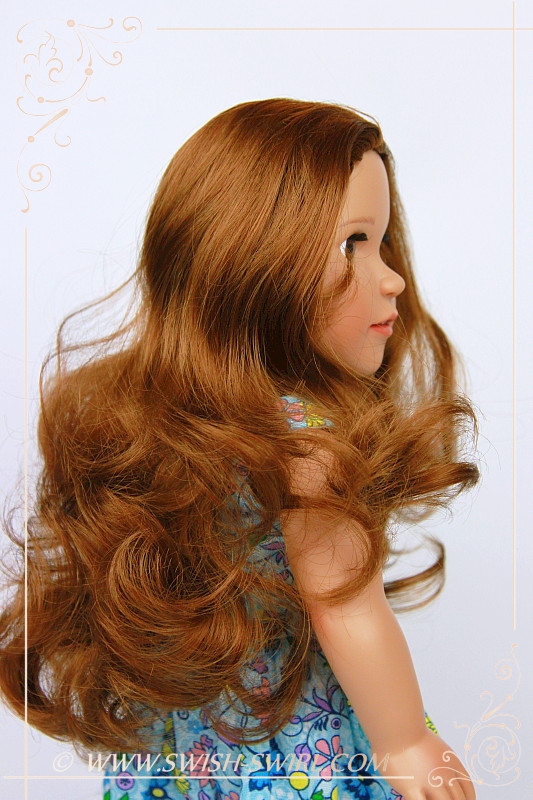 As you can see St Therese rocks the dress I made for American Girl dolls. It fits her perfectly.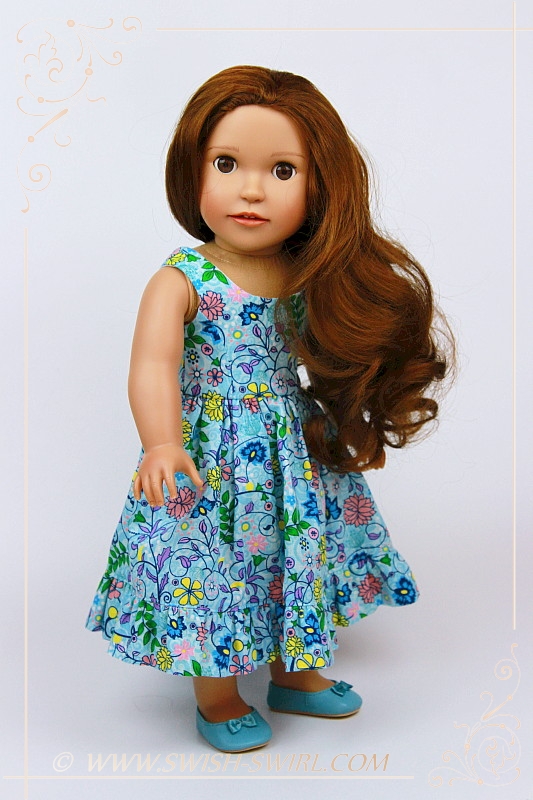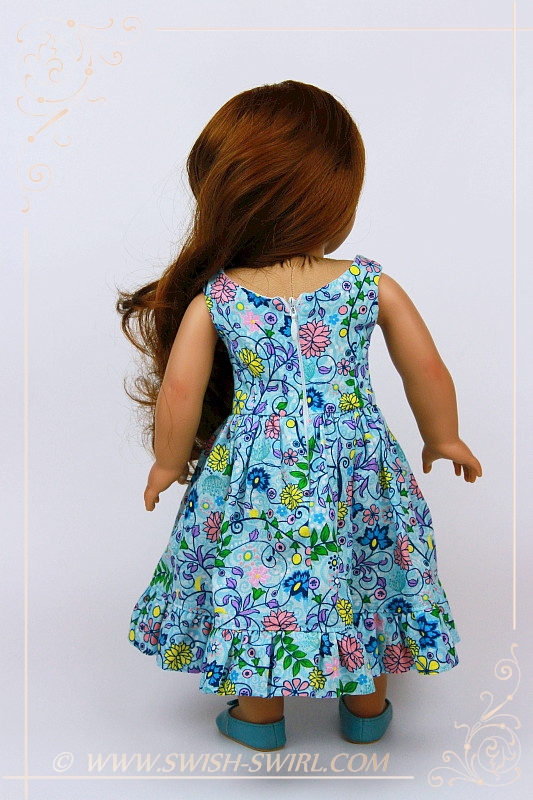 The final thought: I am very very impressed with these dolls! Very! I now have 4 of these dolls but more about it in other posts. Any of these dolls would make an excellent present for any child but particularly for a Catholic child. My children love these dolls and love the books as well!
These dolls can be bought on the Dolls from Heaven website. The company also has a Facebook page and an Instagram account. Please do check them out, these dolls are amazing.
There is also a group for people who would like to share their photos of these dolls and to have lovely friendly chats about them. Please feel free to join the Dolls from Heaven Fanclub!
PS. I took my St Therese doll to our church about 3 years ago. You can see those photos here. She looked in the right place there and some of the parishioners who saw me taking those photos were very intrigued and impressed by her! I do hope there will be many more dolls from this wonderful company in the future! I wonder what the next one will be!!