About 2 weeks ago I had a new trip to Cardiff again. Just love this city, even though it is very modern!! However, it has this wonderful spacious feel – it just creates happiness! So, we spent about 24 hours in Cardiff. Most of the time was spent on Cardiff Bay and in Doctor Who Experience (which I will talk about separately).
I had already taken Doctor Who dolls to Cardiff before, the photos are here and here.
This time, I took with me two American Girl dolls which I'd customized as the Tenth Doctor and Rose Tyler. Rose is Truly Me #53 with a #27 wig and Ten is Marie-Grace with Julie's eyes and a wig I bought on ebay. I made both outfits with the exception of shoes. Ten is wearing his classic brown stripy suit and a dust coat. For Rose I chose a different outfit this time – based on what she was wearing in Series 1, Episode 11 called Boomtown (set in Cardiff). The t-shirt and the denim jacket are made from Liberty Jane patterns, the denim skirt is made from Lee and Pearl pattern (and it's brilliant!!), and I have knitted the scarf from my own pattern.
Ten and Rose on Cardiff Bay. Do you recognize the places from a few of the Doctor Who episodes (Series 1 Ep. 11 Boomtown, Series 3 Ep. 11 Utopia and Ep. 13 Last of the Time Lords)?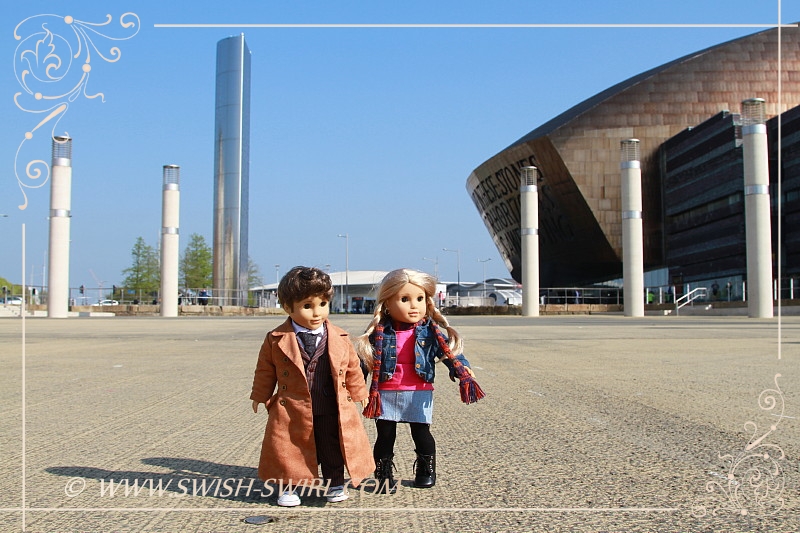 Remember Captain Jack running from that bridge towards the Tardis screaming "Doctooooor!!' (Series 3 Ep. 11 Utopia)?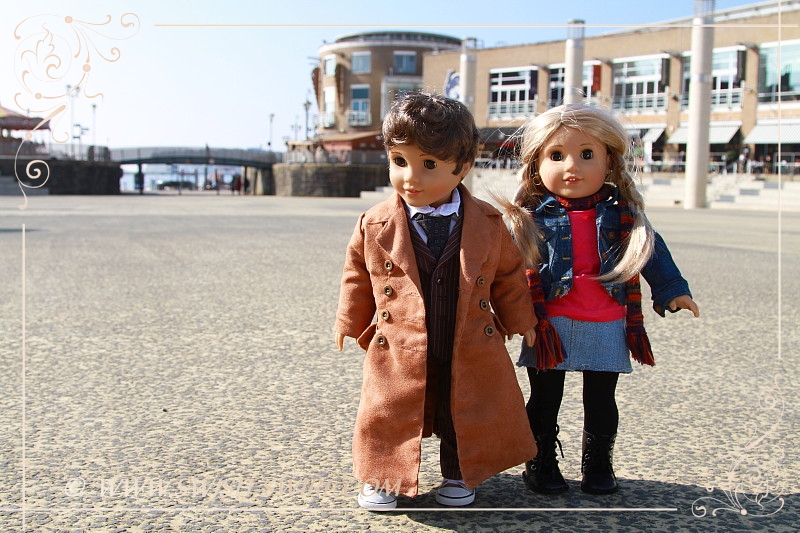 This is the place where the Tenth Doctor, Martha and Captain Jack were standing at the end of Ep. 13 Last of the Time Lords (Series 3).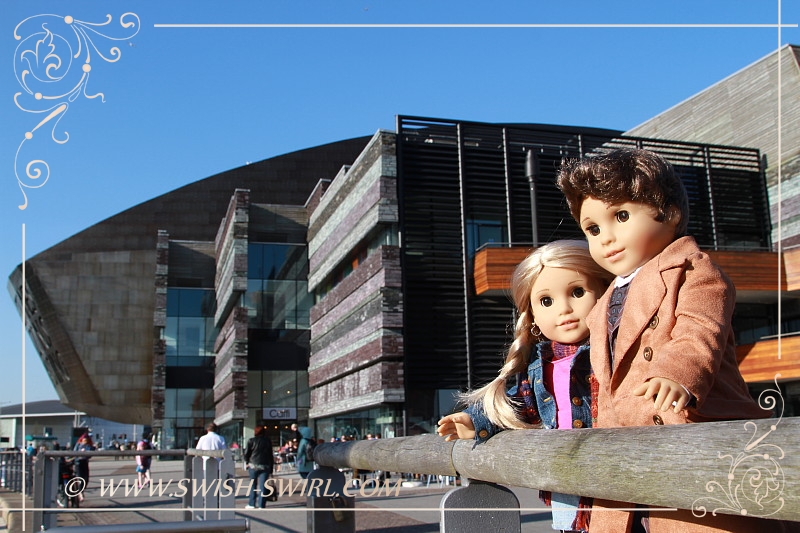 I believe the restaurant in the background was the place where the Ninth Doctor, Rose and Captain Jack had drinks in Series 1 Ep.11 Boomtown.
Some more of the Cardiff Bay.